Geeqie
From LinuxReviews
Jump to navigation
Jump to search

Geeqie, known as GQView up to 2010, is a really nice, easy to use and powerful image viewer. It lets you browse through images in a folder and switch folder with ease. It's can show images as a slideshow using one folder or a tree. It is the best free image viewer program.
Features and usability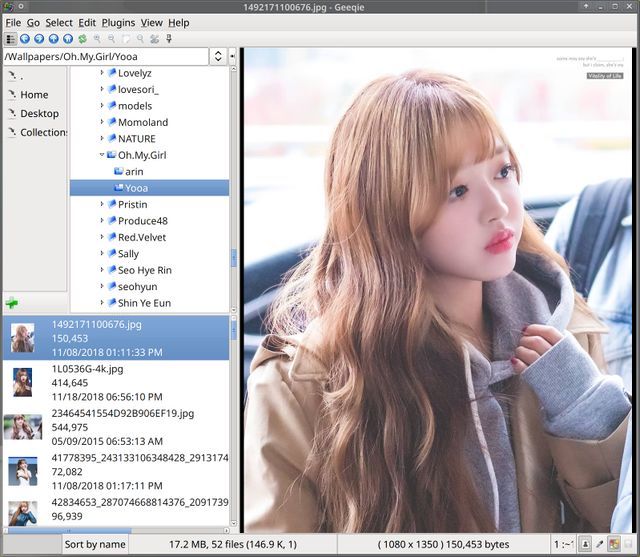 geeqie is very easy to use though it does require a mouse. Switching images in a folder is done with PgUp/PgDown or the mouse-wheel. There is a tree-view on the left side for quickly changing folder. The right side can optionally have a panel showing a RGB histogram, image comments and other EXIF data and rating.
You can quickly zoom in and out with + and - and choose fit-to-window with *. f switches to fullscreen like all sane programs do.
The list of images in a folder has on-the-fly generated thumbnails.
Images can quickly be opened in external programs like Darktable and GIMP. They are listed as "plugins" for some strange reason.
geeqie will open all kinds of images, RAW and SVG too. The only thing lacking in that area is that it won't play .webm video files in a folder. While it's a lacking feature it's not something one can take for granted from an image viewer.
In bullet summary,
GQview has the basic features you need to browse through huge collections of images:

You've got your basic folder tree browser
You've got a list of images with thumbnails
You've got your window showing the image
And.. that's, basically, what you want in a pure image viewer.
The search-tool
Pressing F3 or choosing File->Search from the menu brings up a image-search tool which is pretty unique. It can recursively search for images based on file-size, resolution, date, image dimensions, EXIF information by keyword and GPS co-ordinates. This kind of image search functionality seems to be unique to geeqie.
Brief history-lession
GQview was originally created in 2000. The poor thing was just abandoned in 2006 even though it was pretty popular at the time. Someone decided to pick up the source and keep it alive in 2010 and development is still active and on-going as of 2019. It's happening at http://geeqie.org/cgi-bin/gitweb.cgi?p=geeqie.git
Here's what GQView looked like in 2006:
Verdict
GQview is excellent for viewing, and sorting, huge amounts of pictures.