GNOME Document Viewer
From LinuxReviews
Jump to navigation
Jump to search

"Document Viewer, also known as Evince, is a document reader for the GNOME desktop environment capable of opening PDF, PostScript, DjVu, XPS, DVi and comic book archives.
Features and Usability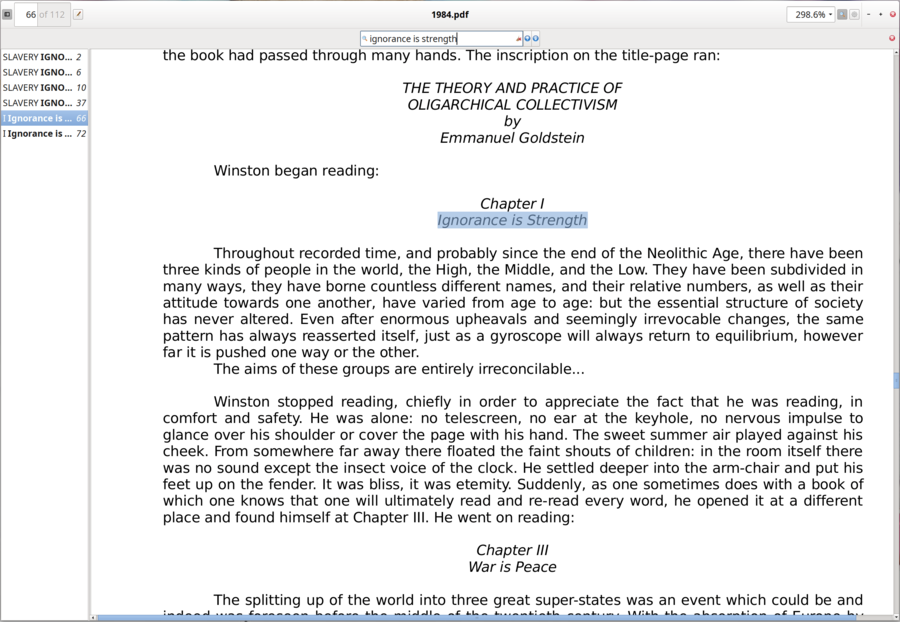 "Document Viewer" 3.24.2 with a e-book version of "1984" open.
GNOME Document Viewer, of Evince as it was called before the GNOME project started renaming everything what everyone sane uses to describe, not name, software (epiphany was re-named "Web", evince was renamed "Document Viewer" and so on), has a window with an opened e-book or document in the middle, a page tool and index preview on the left side and GNOMEs version of a toolbar on top. The area on the left side can be use to show a preview of a documents pages, add or navigate bookmarks or show a documents annotations.
There is no menu bar but there is a small icon you can click on to get a very limited smartphone-like pop-up menu with a limited set of options. The menu can be used to enable dual view, rotate documents (with no option of rotating anything but 90 degrees) and there is an option for viewing keyboard shortcuts which mostly do not work.
"Document Viewer" will show "Recent document" with an option to "Open" files if it is started without any file as an argument. There is no button or menu entry for opening documents if you already have one open. However, it is possible to press the menu button and select "New window" - which opens the default "Recent documents" view where the "Open" button for opening a file picker is visible. It is also possible to open a new document when one is open by pressing ctrl+o.
Bookmarks can be added to documents by pressing an icon in the bookmarks view on the left side. There is no option to bookmark a page from a toolbar or context menu when right-clicking a page or pressing ≣ Menu. Text annotations can be added by pressing a write icon in the upper left corner on what sane applications use as a window toolbar. Text annotations can be shown with a page number by switching to the annotations view in the page tool area on the left side. Clicking on a annotation does nothing, it will show that an annotation is on page 30 but you can not use that indicator to navigate there.
"Document Viewer" supports marking text as if it was a text editor and the highlighted text can be copied or permanently highlighted as a annotation.
Searching for text in a document can be done by clicking the search icon which makes a search toolbar visible.
"Document Viewer" lists a "Dual" mode in its menu and a d keyboard shortcut for it. Enabling or disabling the "dual mode" will appear to to nothing if a page is zoomed to fit the window. It does enable a dual page mode but you will have to zoom out to see it.
Pages can be set to zoom to "Fit Page", "Fit Width", "Automatic" and a given percentage. Zooming in and out can be done with ctrl++ and ctrl+- and by holding ctrl and using the mouse wheel.
"Document Viewer" does not have any option to trim margins (A pretty standard feature Okular, qpdfview and other document readers support).
There are quite a few keyboard shortcuts available, so keyboard navigation is possible. "Document Viewer" does not follow the standard desktop shortcuts every other program uses so you will have to learn its uniqueness. As an example, ctrl+q does not close the program, it does nothing. You will have to use ctrl+w to a window. "Document Viewer" has a few odd quirks like that.
Night mode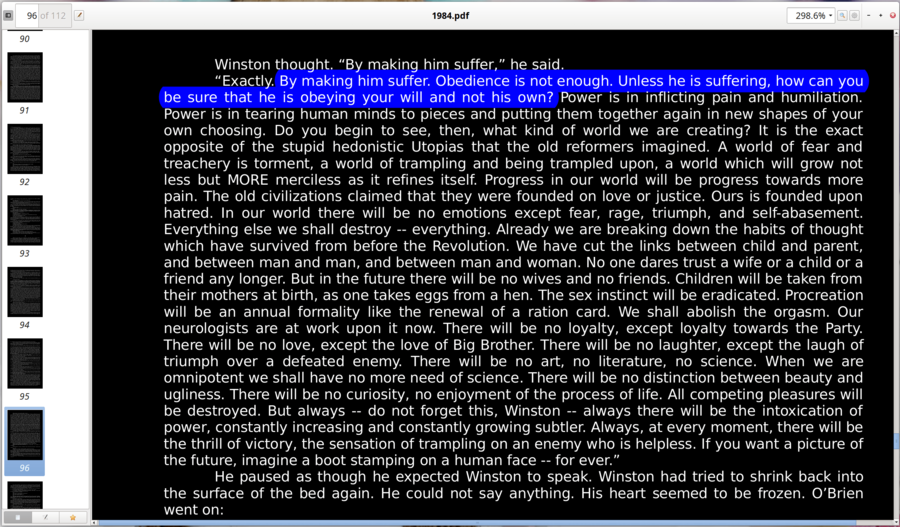 Evince 3.34.2 in "Night mode".
"Document Viewer" has a "Night mode" which will show show white text on a black background instead of the default black text on a white background.
Memory footprint
Evince uses about 100MB of memory when opening a PDF of the classic book 1984 by George Orwell. Scrolling to the end of the book and back to the start increase its memory use to around 400 MB.
Verdict and Conclusion
GNOMEs "Document Viewer" is an alright document viewer. Alright, but great. It looks and feel very much like an "app" designed for tablet or a smart-TV where as alternatives like okular look and feel more like actual desktop applications. It is very apparent that it is designed specifically to be used with GNOME under Wayland. It works in other desktop environments but it looks out of place and child-like compared to other document readers.
"Document Viewer" will open most document files, apart from ePub, and display them accurately. It is fine if you like GNOME-style toy smart-TV "apps". You are better off using okular or qpdfview if you want something light-weight if you prefer desktop applications with menus and window title bars.
Links
The "Document viewer" formally known as Evicen has a homepage at wiki.gnome.org/Apps/Evince.
Alternatives
Worthwhile free software document readers:
| Program | framework | supported file formats | memory footprint[1] |
| --- | --- | --- | --- |
| apvlv | GTK | PDF and "UMD" | 260MB |
| GNOME Document Viewer | GTK/GNOME | PDF, PostScript, DjVu, XPS, DVi and comic book archives. No ePub support. | 400MB |
| Okular | Qt/KDE | All of them. PDF, Postscript, DjVu, CHM, XPS, ePub, comic book archives and many more | configurable, insane (4.5GB+) by default, 300MB on "Low" |
| qpdfview | Qt | PDF, PS, DjVu. That's it. No ePub, no comic formats. | about 220MB |
| Zathura | girara | Plugins for PDF, PS, DjVu, comic book archives | about 700MB |
Notes
↑

Memory use after opening a .pdf e-book version of 1984 and scrolling to the end and back. Actual use will vary depending on what document you open; these values are mostly useful for comparing one reader with another.