Stellarium
From LinuxReviews
Jump to navigation
Jump to search
Stellarium

Stellarium 0.21 showing some of the constellations in the night sky.

Original author(s)
Fabien Chéreau
Developer(s)

Alexander Wolf
Georg Zotti
Marcos Cardinot
Guillaume Chéreau
Bogdan Marinov
Timothy Reaves
Florian Schaukowitsch

Written in
C++
Operating system
Linux, Windows, macOS, Android, iOS, web
Type
Planetarium
License
GNU GPL v2
Website
stellarium.org

Stellarium is a pretty advanced free software planetarium program with a user-interface that gets so many basic things wrong that you will likely judge Stellarium to be a completely useless and worthless piece of software the the first time you try it. It is actually a quite advanced planetarium program with a lot of advanced functionality beneath the joke of a user interface that is filled with everything but the basic essentials you would need to get any benefit out of it.
You can learn how to use the GNU/Linux desktop version of Stellarium if you have an interesting in and familiarity with clunky software. Stellarium is not for computer novices or people who aren't interested in software beyond it's utility, if you just want something that lets you look at the constellations in the night sky real quick without having to learn how some advanced planetarium program clearly aimed at professional astronomers works then KStars or even the simple web version of Stellarium would be better alternatives.
Features And Usability
You may get greeted with something like this the first time you start what is supposed to be a "planetarium" or "astronomy software" on a GNU/Linux distribution: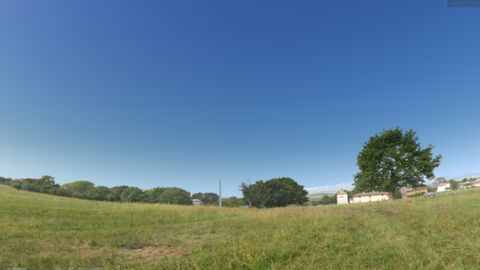 Stellarium v0.21 during the daytime.
The reason you may get a blurred picture of a field with a blue sky without any star or planets when you start the Stellarium "planetarium" is that it will intentionally try to show you exactly what the sky looks like when you launch the program. Why the authors believe anyone would be particularly interested in looking at the blue sky when they launch a "planetarium" on a rainy day is anyone's guess.
You can go outside and look at the stars at night. You can't do that an afternoon on a rainy day, and that's when a "planetarium" program would come in handy.
There is a way to make Stellarium actually show you the night sky during day-time. You'd think there was an option to choose what time of day the sky should be simulated from within the program, but no. That would make sense, and absolutely nothing within the clunky Stellarium interface makes any sense. You can't even see it if you launch it on a high resolution monitor, all you get is some microscopic symbols that shows some microscopic readable text in the upper right corner if your monitors DPI is above 140.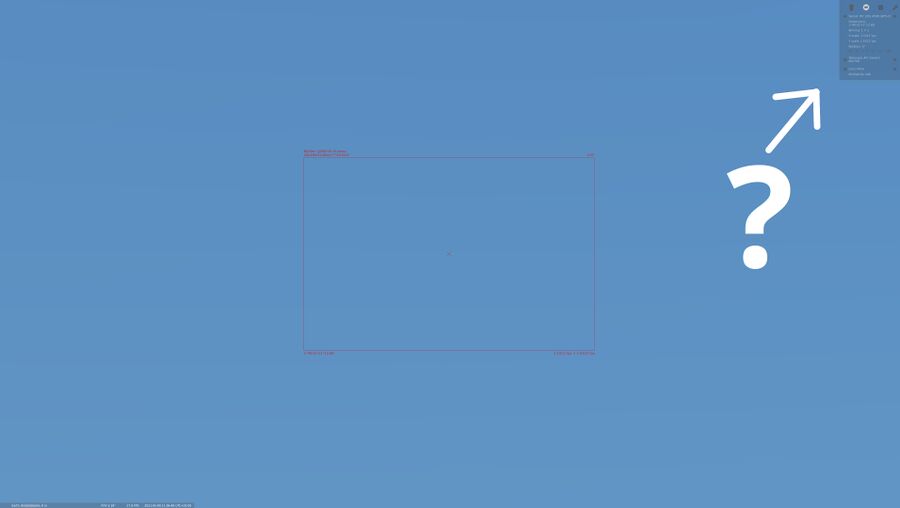 Good luck figuring out what any of the menu options in Stellarium say or do if you have a HiDPI monitor...
Clicking on one of the microscopic menu buttons Stellarium offers makes it present a blue screen with a tiny red square on it. Nobody knows why.
It is possible to make Stellarium a bit more useful by using one of the command-line options you can find if you open a terminal and type stellarium -h or stellarium --help. That reveals an option called --scale-gui you can use to run it with
There is, of course, no configuration option that allow you to set the GUI scale within Stellarium, and it does not remember the value. The only solution to making it permanent is to copy the free-desktop standard desktop menu entry file /usr/share/applications/org.stellarium.Stellarium.desktop to $HOME/.local/share/applications and edit it so the Exec= value under [Desktop Entry] says
stellarium --startup-script=%f --scale-gui 2
It's interesting to note that the desktop file has a [Desktop Action Scale] section with Exec=stellarium --scale-gui 2.0 since.. you're not supposed to be able to use it unless you are a software developer who knows how to open a terminal and edit a menu file, debug things and write code.
Stellarium has a little pop-out menu that becomes somewhat visible during day-time if you drag the mouse pointer to the lower left side of the interface and a star navigation menu that becomes visible if you drag the mouse pointer to the bottom left side.
The menu on the bottom left side offers a Configuration option. You can also get at it by pressing F2. It has a Time tab you can use to choose to view the night sky at a specific date and time or the current system date at a specific time. Stellarium will, of course, not change anything when you change these settings. The settings you configure are not saved automatically, and the defaults are restored if you re-start it to try to make them take effect.
The trick to making settings changes be saved is to change the settings you want and then switch to the settings box's Main section where there is a Save settings button you need to click. Any settings changes you make without clicking that button afterwards are lost.
Stellarium will, of course, do absolutely nothing with any new settings or options you save since that would make sense, provide some user-feedback and be remotely user-friendly. You will have to change the time settings under Configuration ▸ Time (Use "System date at" and "12:00 AM"), switch to Main and click Save settings and then press ctrl+q to quit and re-launch Stellarium to make it actually show the night sky. It really is quite laughable that nobody involved with it has figured out that there should be a simple Apply settings button on each settings tabs that both saves and immediately applies settings. Most of those developing commercial software figured that out in the 1990s.
Exploring The Night Sky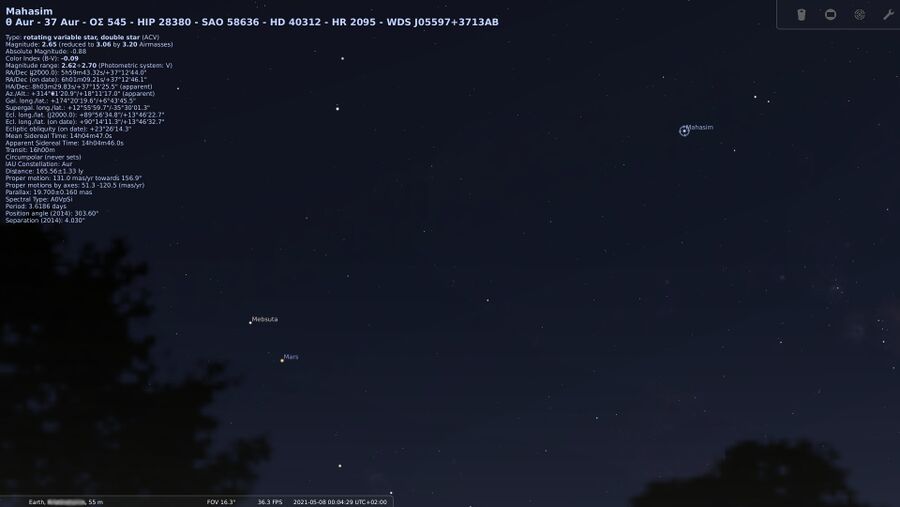 Stellarium v0.21 showing the night sky.
It becomes very apparent that Stellarium is a really advanced program with a lot of work behind it once you figure out how to make the GUI scale to a size where it is possible to use it and you figure out how to make it actually show the sky at night with stars, planets, satellites and other heavenly bodies.
Stellarium appears to be aware of all the planets and stars you can see from Earth. It has a lot of data. You can click on stars and planets to get more information about them.
It is actually possible to see the items in the toolbar that becomes visible if you drag the mouse to the lower left side of the screen in night sky mode and it has a lot of useful features you may want to explore.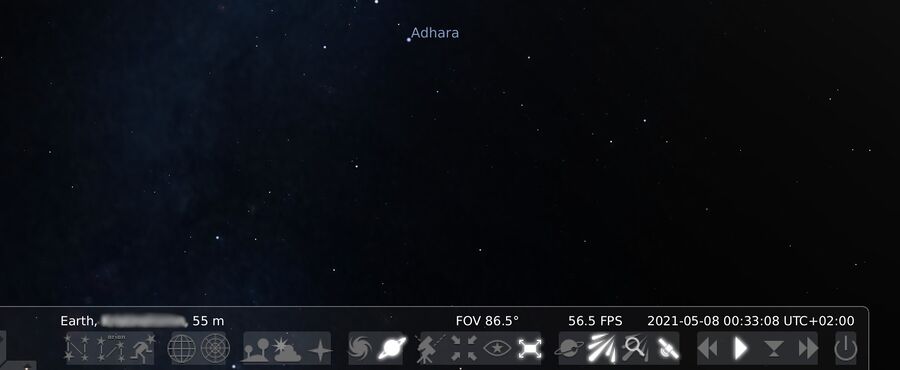 The toolbar you that pops out if you move the mouse to the lower left side of the Stellarium interface.
A few features you might want to try right away if you are interested in the constellations that are visible in the night sky are Constellation lines (also available by pressing C), Constellation labels (V), and constellation art (R).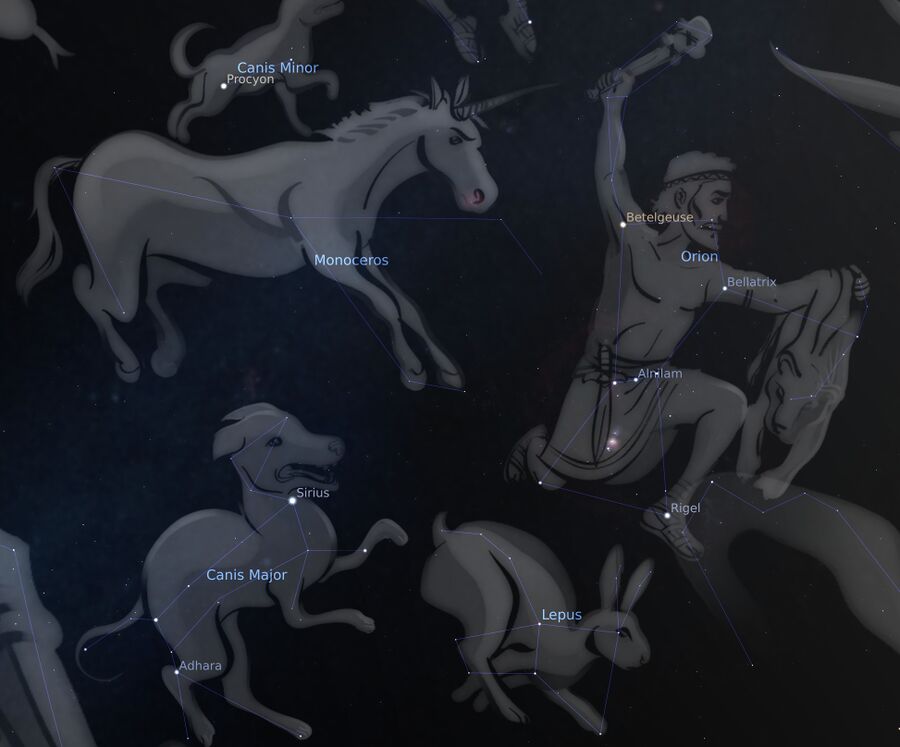 Stellarium-0.21 showing some of the constellations in the night sky.
Other useful keys, or toolbar buttons, you may want to try are G that toggles ground visibility and A that toggles atmosphere. You are, by default, not able to explore anything beyond what you would be able to see from your geographical location at night. Many stars are hidden when atmosphere is enabled, and you can't see the other side of the earth when the ground (and the interior of the planet) is in the way. Turning "Ground" visibility off makes it possible to get a 360° view of the universe.
There is a lot more than this to it, Stellarium is a very powerful program behind the rather clunky and non-intuitive interface.
Verdict And Conclusion
The GNU/Linux version of Stellarium seems to be made by astronomers and/or programmers who never bothered to ask anyone outside of their professions how usable it is in the 20 years that it has been around (the first version was released in 2001). Show the GNU/Linux version to anyone who's not all that interested in computers or software in general and ask them to make it show the night sky and they simply won't be able to figure out how to even to that with it.
Stellarium could very easily become a pretty nice and usable program, it wouldn't that that much. All the heavy lifting and tiresome work required to do what it's supposed to do, show the objects in the night sky, is done. Everything is there. It is a shame that it fails to provide the really simple and very basic features that would make it useful for regular people who would perhaps like to use it to learn about constellations or planets or stars. KStars gets a lot of those things right, even though KStars is also mainly aimed at professional astronomers. KStars doesn't just show you a blurry field with a microscopic interface that is too tiny to use the first time you launch it, you don't have to be a computer scientist and an hour or two before you figure out how to make KStars actually show you the stars.
The Stellarium developers really should consider that Stellarium could be a fun and useful program for non-developers and non-astronomers and make it a lot easier to use if you're not a "professional" willing to read the long manual and spend forever learning the clunky ways to use it's vast number of features.
There are, apparently, some within the Stellarium dev team who gets it. Stellarium has a online website at stellarium-web.org with a basic Stellarium interface you can use to view the night sky. It lacks all the more advanced features the GNU/Linux desktop version has, yet it is in many ways superior because it gets a lot of the basic usability requirements right. For one, it'll immediately show you the night sky regardless of when you go to stellarium-web.org. A little text field in the lower left corner shows the location you are viewing the sky from, and you can just click on that and get a map you can use to change the location. And the bottom of the web interface as a always-visible toolbar with access to the basic features that are more interesting to regular people who are not processional astronomers. Making the GNU/Linux desktop version just as easy to use wouldn't take much, and it wouldn't mean sacrificing any of the advanced features "professionals" use.
Stellarium is, as it stands, not something we recommend if you just want to explore the night sky real quick. KStars is a more user-friendly alternative if you're looking for a piece of planetarium software you can use to explore the constellations. KStars is also for "professionals" and it is, like Stellarium, filled with features for professionals that regular people will never use or care about. Yet KStars manages to be fun and useful for casual users while Stellarium looks like a utterly useless joke of a program the first time you try it - if you try it during day-time, anyway. Perhaps the Stellarium desktop version will become more user-friendly in the future. The web version at stellarium-web.org is, quite frankly, preferable to the desktop version - which is quite sad.
Links