MSI Kombustor
From LinuxReviews
Jump to navigation
Jump to search
MSI Kombustor

MSI mascot

MSI Kombustor showing a MSI logo using Vulkan

Operating system
Windows (Linux using Wine 5.16+)
Size
90 MiB (self-extracting exe)
about 150 MiB installed
Type
Graphics Card Stress-Test
"benchmark" (not really)
License
Freeware (Proprietary)
Website
msikombustor.com

MSI Kombustor is a GPU stress test and not really benchmarking application created by Furmark on the behest of Taiwanese Micro-Star International. MSI Kombustor can render a variety of scenes using either OpenGL or Vulkan and show how many FPS those scenes are rendered with. It may be useful as a GPU stress testing tool. It is not very useful for GPU benchmarking. There is no way to make it run through all the scenes it can render and produce a overall score (there is a Bench button that lets you benchmark individual scenes).
MSI Kombustor on GNU/Linux
MSI Kombustor is only available for Microsoft Windows. The 64-bit Windows version runs almost perfectly under Wine 5.16+ (likely earlier versions too). DXVK is not required and would make no difference since none of the tests use DirectX. All the OpenGL and Vulkan scenes render like they should but the "PhysX" GPU tests fail with a message saying "No PhysX GPU support".
The installer fails to run with Wine 6.5 and 6.6. It installs fine with Wine versions up to Wine 6.0. You can run it with later versions, but you can't install it.
Features And Usability
MSI Kombustor starts off with a simple window where you can select what "Stress" test to run, resolution, Vulkan GPU/API if the test is using Vulkan and weather to run in fullscreen or not. There is a fine big black RUN stress test button to start each test.
The individual tests are just single scenes displaying various things like a MSI logo or a donut. Some can be rendered using OpenGL or Vulkan, some can only be rendered using OpenGL. There are no DirectX/Direct3D tests.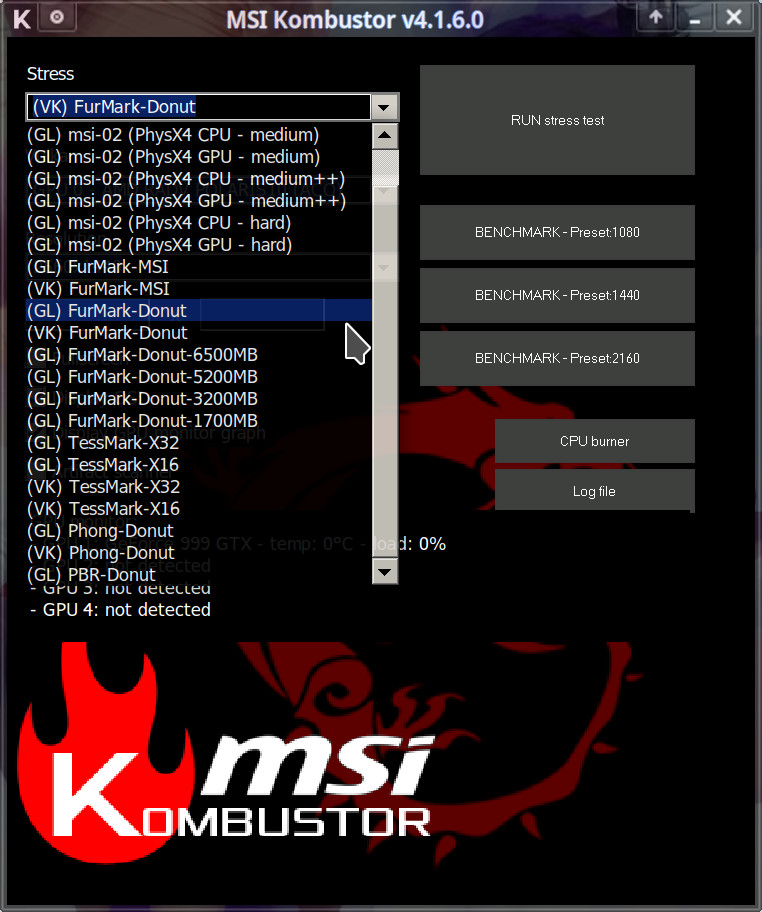 How many frames per second you get in each scene is display in the window title and on the bottom of the window/screen if you enabled Display OSI. FPS can also be displayed using MangoHud on the Vulkan scenes (for some reason MANGOHUD=1 mangohud wine MSI-Kombustor-x64.exe doesn't display any MangoHUD overlay on OpenGL scenes).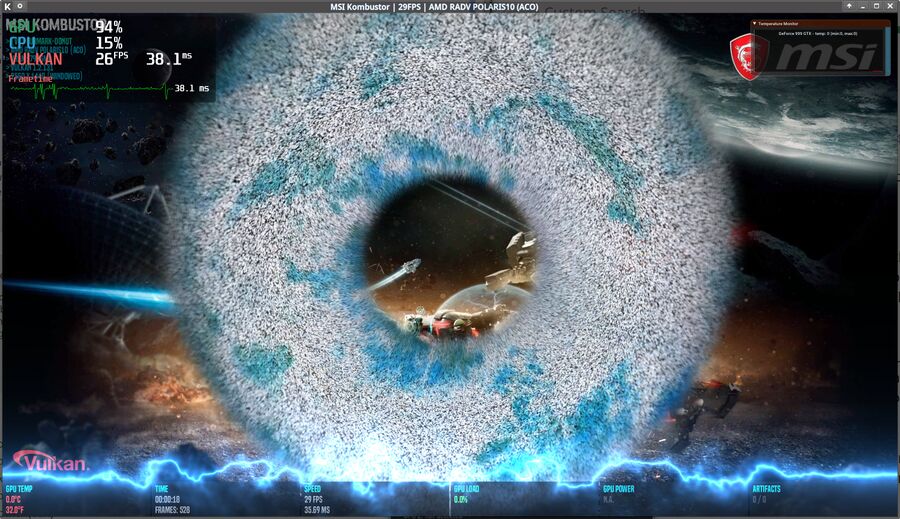 A fancy Donut rendered using Vulkan.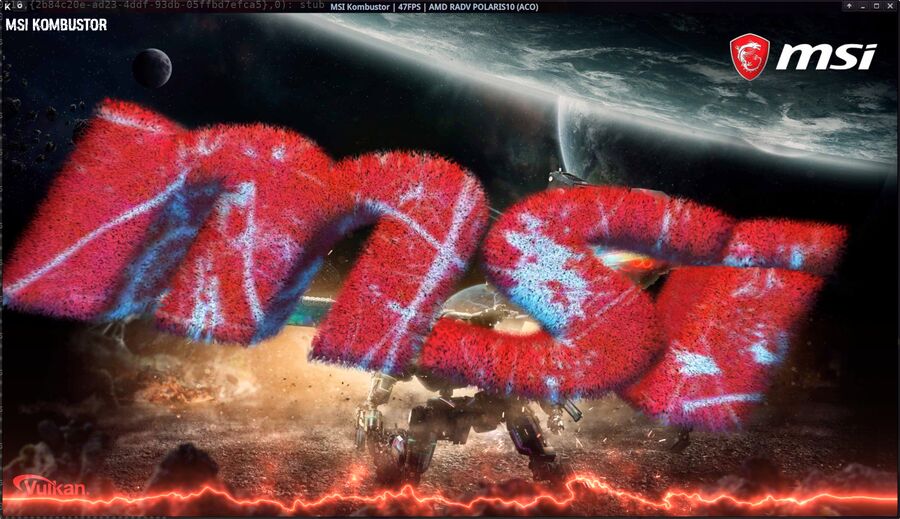 A MSI logo rendered using Vulkan.
Verdict And Conclusion
MSI Kombustor is probably a fun toy if you are bored and you want to stress test your GPU or make it produce heat during a cold winter day. It is not very useful as a general benchmarking tool. It does show how many frames per second you get in each individual scene, so it can be used to compare performance between graphics cards and systems. It can't run through all the scenes and produce a score or even show the average FPS in a single scene. You can look at the FPS numbers from each scene while they are running and compare those, so it can be used for benchmarking. It would be a lot more useful for that purpose if you could simply run through all the scenes and get an overall score.
MSI Kombustor runs perfectly on Linux (except for the PhysX tests) even though it is in principle only for Windows, so there's that to enjoy.
Links
MSI Kombustor can be acquired from msikombustor.com.