Kaidan
From LinuxReviews
Jump to navigation
Jump to search

Kaidan is a very simple and easy to use multi-platform XMPP/Jabber client. It supports text chat and file sharing with contacts who are also using a XMPP client. It does not support voice or video calls, just text. It's a nice choice if you need to talk to people who are using the XMPP protocol for some reason.
Kaidan is available for Windows, Linux and MacOS and Android.
Installation
Some GNU/Linux distributions have Kaidan in their repositories but most do not. You may have to download the nightly FlatPack or AppImage version from kaidan.im/download/ to get it. A Windows binary, a MacOS file and a Android APK are also available on that page.
The latest release, 0.4.1 from July 2019 as of December 2019, lacks some of the features that are present in the nightly builds. In-chat playback of video files that are attached to messages is one noteworthy feature missing from the stable release.
Features and Usability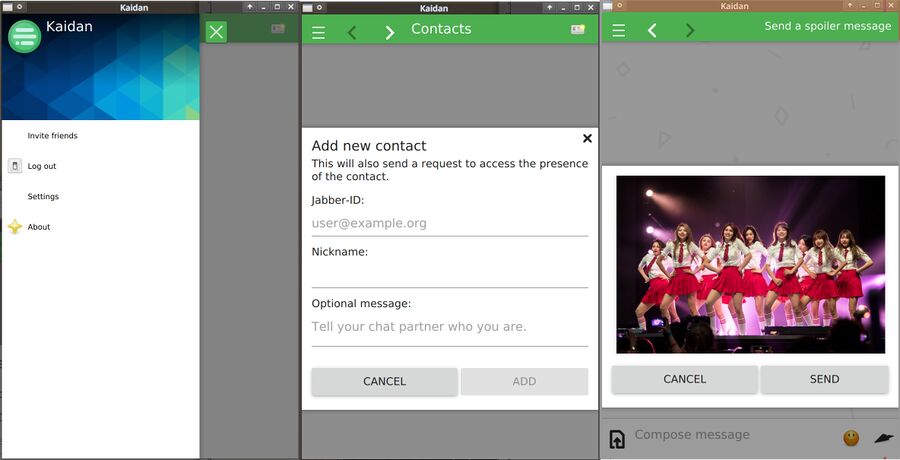 It may look like this is the mobile version of Kaidan but it is actually the the desktop version. They look and feel and behave the exact same way.
Kaidan is a very user-friendly program for text-chat and file sharing with friends who are connected to a XMPP server. And that's all you can do with it: Send and receive text messages and file attachments. It's like a real-time e-mail client. There is no voice or video chat support.
Kaidan is a client for the ancient XMPP protocol and that is all it supports. It is not a multi-protocol chat program like Pidgin and Kopete. XMPP was formally called Jabber; The name was changed from something you can say to something you can't for reasons that make no sense. XMPP is a network of servers who talk to each other. Kaidan will let you use an account on any of those XMPP servers to talk to other people who have an account on some XMPP server and a client connected to it running.
Kaidan has a easy button in the chat window's bottom left corner which lets you send files to other XMPP users. Kaidan will show received image files and, in the nightly version, voice and video files in the chat window. It's also got a simple emoji picker.
The nightly version of Kaidan can share your location in a chat message with the click of a button. Nightly's also got a button which lets you take a photo and send it to a chat partner. The latest 0.4.1 release do not have these features.
Kaidan does not have support for OTR or GnuPG end-to-end encryption. This may be fine or it may be a deal-breaker. The nature of the XMPP protocol means that it doesn't really matter if you are using TLS when you connect to the XMPP server you are registered on, you need end-to-end encryption to get any real security when you use XMPP to chat.
Verdict and Conclusion
Kaidan is all-in-all a easy to use XMPP chat program with all the features a XMPP client can have.
Kaidan's biggest weakness as a chat program is that it's limited to the XMPP protocol. Multi-protocol alternatives like Pidgin let you talk to people who use XMPP and a number of other protocols like Matrix, Discord and so on. People's preferences vary. The odds of everyone you know preferring to use XMPP for all their chat needs is rather low.
No real privacy or security due to a lack of OTR or other encryption is also a concern.
Kaidan a fine userfriendly choice if you are looking for a plain XMPP client and you do not see security as a huge concern. Consider Pidgin or something else if you need end-to-end encryption and/or multi-protocol support. Pidgin is not as smooth and user-friendly but it's more powerful feature-wise.
Links
Kaidan's homepage is at kaidan.im and nightly builds are available at kaidan.im/download/.
The source code repository is at invent.kde.org/KDE/kaidan.