Kopete
From LinuxReviews
Jump to navigation
Jump to search

Kopete is an outdated advanced multi-protocol, free software instant messaging client built using the KDE libraries. It allows you to talk with friends on mostly formally popular messaging networks from one program. It has a Off The Record (OTR) encryption plugin which can be used on top of the messaging services it supports for additional security. Kopete was very popular and useful a decade ago. As of 2019 it's not very useful and, in some ways, outdated.
Kopete

Kopete 0.12.4

Developer(s)
KDE / Kopete developers
Operating system
Linux / Unix-like
Type
Instant messaging client
License
GPL
Website
userbase.kde.org/Kopete
Features and usability
The welcome wizard for setting up accounts quickly reveals that Kopete has fallen severely behind the times.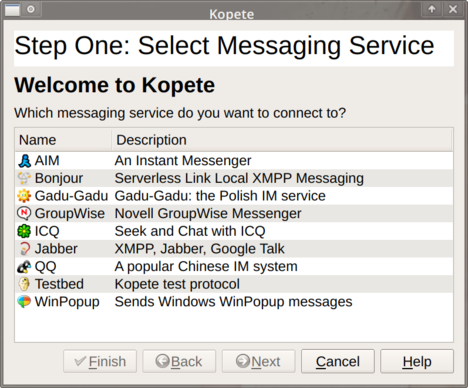 The supported messaging protocols are:
AIM - AOL Instant Messenger
Bonjour - Apple protocol for local networks
Gadu-Gadu - Polish people used to use this protocol
GroupWise - Remember Novell GroupWise? Found memories. Not that relevant in $current_year
ICQ - Yes, it's still around
XMPP aka Jabber. Also used by Google Talk. The one actually useful protocol
WinPopup - Local network message system for older Windows versions
The only useful protocol supported by Kopete would be XMPP. That's it, it's gone from being a useful multi-network client to a Jabber client.
The lack of support for modern messaging networks is apparent. There is no Matrix support, Discord support, Telegram support or support for anything else all your friends are using. This severely limits Kopete's usefulness. Kopete used to support a lot more networks. It would appear discontinued services like MSN were removed when those networks died but the newer ones replacing them were never added.
Plugins
Kopete does come with a lot of plugins which can enabled[1]. These are: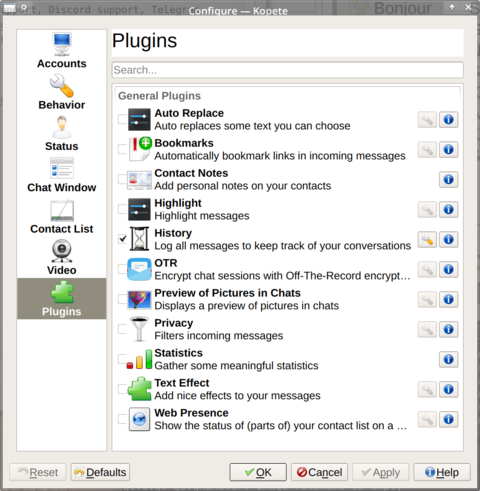 Auto Replace
Bookmarks
Contact Notes
Highlight
History
OTR
Preview of Pictures in Chats
Privacy
Statistics
Text Effect
Web Presence
The OTR Off The Record protocol for encrypted chat over other insecure protocols is the most useful of the supported plugins. It is, like the rest of the plugins Kopete supports, not at all useful since the program itself doesn't support any modern protocols.
Future Development
Development of Kopete has stalled. The KDE program "Telepathy" was said to be replacing Kopete back in 2011-2012. That may have been someone's plan but development of Telepathy appears to have stalled back in 2015. It never really went anywhere.
Verdict and Conclusion
Kopete has pretty much been reduced to being an average XMPP/Jabber client. It lacks support for anything your friends would be using. It's probably fine if you want a XMPP client.
It's a bit sad that Kopete has fallen behind the times to the degree it has. The program itself is sound and it would be quite nice and useful if it got support for some additional protocols like Matrix.
notes
links