Ducky Key Fidget
From LinuxReviews
Jump to navigation
Jump to search

The Ducky Key Fidget from mechanical keyboard manufacturer Ducky is a fun and exciting fidget toy for the whole family. The hardware consists of a plastic tray, a small chain, a Cherry MX mechanical key switch and a keycap.
written by 윤채경 (Yoon Chae-kyung)  2020-01-24 - last edited 2021-04-02. © CC BY
Features

The Ducky Key Fidget can provide hours of fun for you and your family.
The Ducky Key Fidget is a very portable toy consisting of single mechanical keyboard key. You can press it once or repeatedly. Pressing the key provides a very satisfying "click" sound similar to what you get when you type on a mechanical keyboard with clicky switches.
It is small and very light-weight. It can easily be carried in a pocket, bag or back-pack. You can easily bring it along and enjoy it with your friends in parks, bars, nightclubs and other social places and events.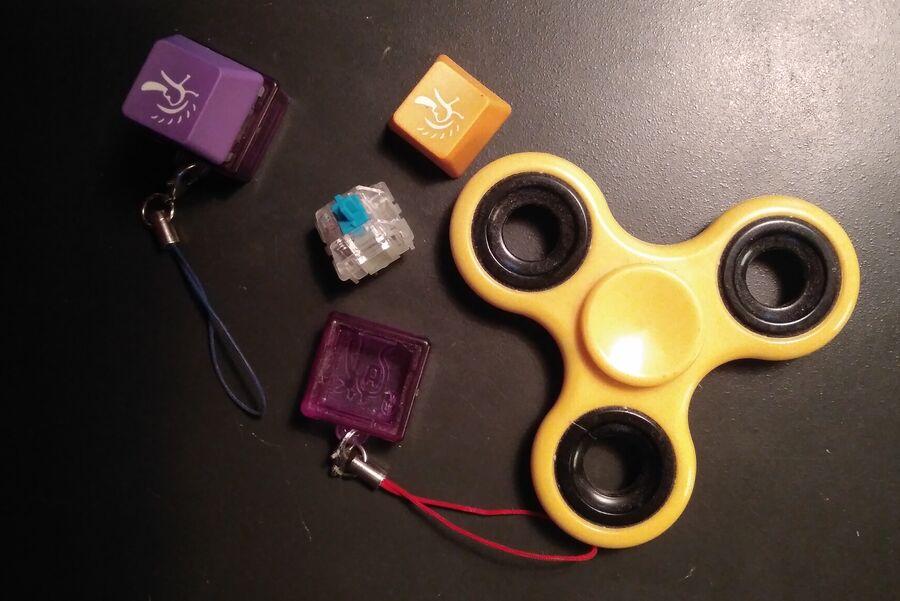 A disassembled Ducky Key Fidget next to a fully assembled Key Fidget.
The Key Fidget consists of three distinct parts: A plastic tray, a mechanical keyboard switch and a keycap. It can be disassembled and assembled with ease. The keyboard switch has a standard cherry mx cross so the stock ducky keycap can easily be replaced with other keycaps.
Risks
The Ducky Key Fidget is very small. Small children as well as cats and dogs could swallow it or parts of it and have problems. Keep it away from small children.
Verdict And Conclusion
The Ducky Key fidget is a fun and exciting fidget toy. It is a great toy to have handy in case you get an urge to fiddle with something.
Availability
The Ducky Key fidget made by Taiwanese keyboard manufacturer Ducky. It is not listed as available under Products on their website. It is not hard to get even though it is not listed as a product on their website, their employees tend to have a few of these things on them and they tend to give them away if you pet their heads or touch their arms.