Dissenter
From LinuxReviews
Jump to navigation
Jump to search

Dissenter is a "Free Speech" web browser made by Gab Ai. It appears to be a fork of an old Brave version which itself was forked off an old Chromium version. It is available for Windows, macOS and there are .deb and .rpm versions for Linux. The Linux version is not very useful since it doesn't even run or produce a web browser window.
Features and Usability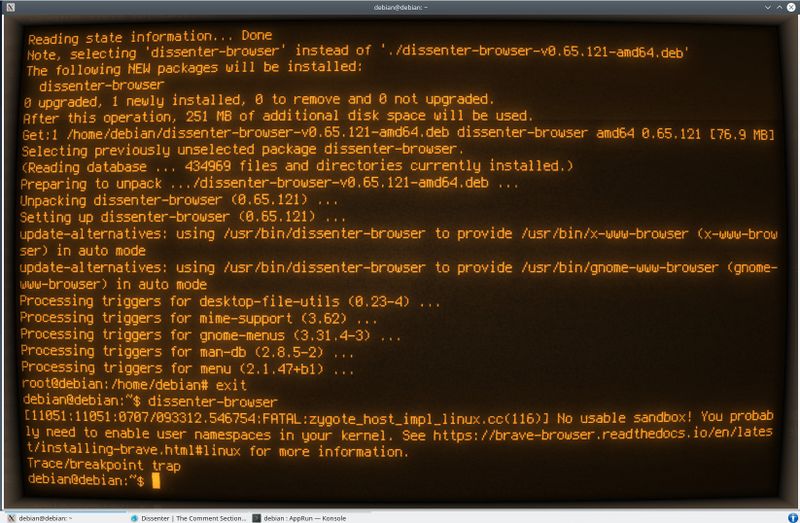 Dissenter, on Debian 10 Buster, starts and produces the less informative message [11051:11051:0707/093312.546754:FATAL:zygote_host_impl_linux.cc(116)] No usable sandbox! You probably need to enable user namespaces in your kernel. See https://brave-browser.readthedocs.io/en/latest/installing-brave.html#linux for more information. Trace/breakpoint trap
That's it, that's all the Dissenter package does.
Verdict and conclusion
Dissenter is a really bad web browser compared to even the simplest of web browsers such as lynx since lynx will actually display web pages.
Under the hood
A sneak-peak at /usr/bin/dissenter-browser reveals that it is an older bash start-up script for Chromium. The actual browser executable installs to /opt/gab/dissenter
A brief look at the files the .deb package installs reveals a disturbing /etc/cron.daily/dissenter-browser job infecting the system. Oddly, it will try to remove dissenter from apt's sources list and exit 0 and that's it. It's an odd file.
/opt/gab/dissenter/resources has two folders called brave_extensions and brave_rewards which clearly indicate that Dissenter is indeed based on the Brave browser.
Links
Dissenters homepage is at https://dissenter.com/ and there are download options on that page in case you really enjoy seeing FATAL:zygote_host_impl_linux.cc messages in your terminal for some reason.