Crystal Dream 2
From LinuxReviews
Jump to navigation
Jump to search

Triton's Crystal Dream 2 demo running in DOSBox.
Crystal Dream 2

A screenshot of Crystal Dreams 2 half-way through.

Original author(s)
Triton
Initial release
June 1993
Written in
x86 assembler and Pascal
Operating system
DOS
Size
2 MiB

Crystal Dream 2 is a classic DOS PC demo released at The Computer Crossroads demo party led in Gothenburg, Sweden, in June 1993. It won 1st place in the demo competition. It is one of the two most noteworthy PC demos released in the early 1990s. Crystal Dream 2 runs fine in DOSBox as long as you select Gravis Ultrasound as the (emulated) soundcard.
Triton's first demo, Crystal Dream, does not run as well in DOSBox. The visual part runs fine, but the audio doesn't work. DOSBox-X has some special patches specifically for Crystal Dream, it may or may not have audio in the latest DOSBox-X version (it does not have audio in DOSBox and dosbox-staging). The group never released any other demos. They did release a .MOD file composer program called Fast Tracker. It was later ported to UNIX/Linux, but it hasn't been updated in 20+ years.
Running The Demo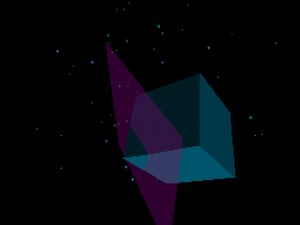 Download Cd2-trn.zip and extract it. It contains a text file from scene.org and CD2.EXE.
Use DOSBox with Gravis Ultrasound as your sound card (you may need to enable GUS in the DOSBox configuration file before running the demo) to run the CD2.EXE file.
See Also