Cockpit
From LinuxReviews
Jump to navigation
Jump to search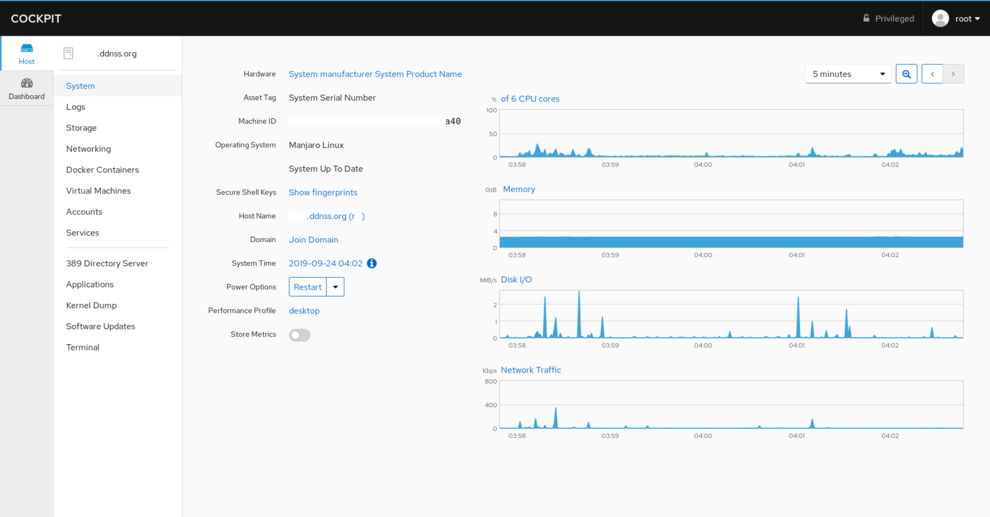 cockpit by IBM (red hat) is a local web-app offering pretty cool system management.
so for example, you can add or modify hard disk partitions
manage systemD
manage the network settings (not every bit of it, but quite comprehensive)
reboot the machine
easily throw in a (and start, stop, remove) docker, e.g. run a Ubuntu docker container against your Manjaro kernel.
run an .ISO image as a VM, add or remove those
cockpit, found on localhost:9090 in the fox uses latest systemd technology (when unused, does not spend cpu-time) and is legacy free (i.e. supports UEFI boot but not BIOS boot). It is available for several distros including Red Hat (RHEL), Fedora and Manjaro_Linux. In his talks, Lennart_Poettering often recommends cockpit. In the cockpit, you find functions that you already have in the Desktop (for example adding disk partitions) and adds an alternative way to manage those. So some people think it is redundant or even superfluous, but what it really is: It is cool! When you install a Fedora30-server, when finished you will see "cockpit" upon reboot. It is like an ersatz KDE-system-settings for Fedora 30+ server edition.
Critique
Some critics ask how they make up the ingredients for cockpit: It is neither all-encompassing nor seem to have any rhyme or reason as to what is and is not included. It is a wildly mixed bag of whatever. Like they throw in another bash-Terminal as if you had not plenty of those already. Most stuff is useful though. It seems focused on new kick-butt systemD functionality, and is somewhat server-oriented thus missing some critical stuff for a local desktop machine. But since it is so advanced in 2019, everyone needs to have it.
see also