Xfburn
From LinuxReviews
Jump to navigation
Jump to search

Xfburn is a CD/DVD/BlueRay disc authoring program written with the Xfce desktop environment in mind. It can be used in any desktop environment. It can be used to burn ISO images, create audio discs and data discs. It supports CDs, DVDs and BlueRay discs. It does not support authoring playable video DVD or BlueRay discs. Xfburn is fine if you still have a CD/DVD/BlueRay writer and you want to demonstrate how that ancient technology works when you are giving a tour of your museum or something like that.
Features And Usability


The welcome screen in Xfburn 1.6.2.
Xfburn starts off with a simple welcome screen with four choices. You can choose to burn a ISO image, create a data CD, create a audio CD or blank re-writable discs.
All the options are easy to use.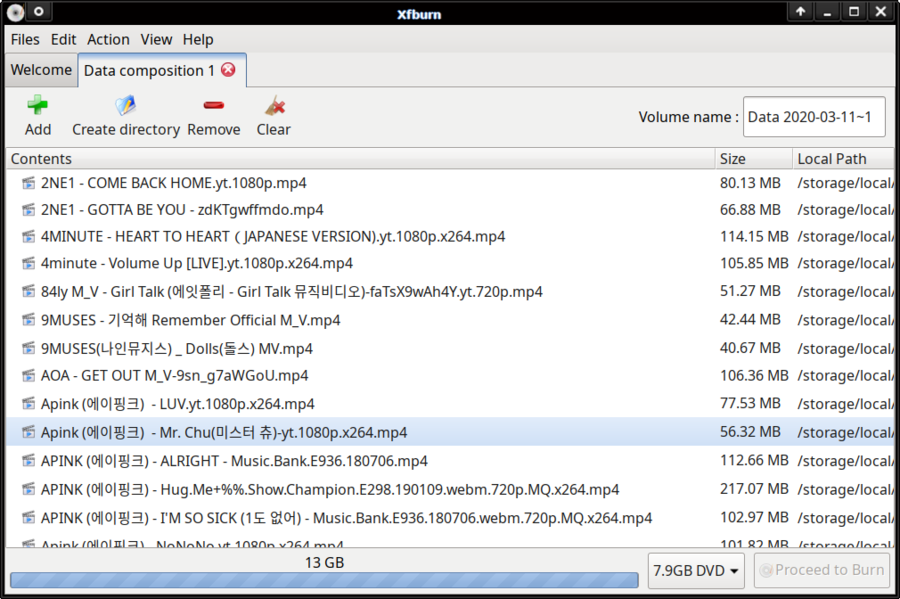 The data disc creation window.
Burning data discs is a simple matter of either adding files using the Add button or dragging files into the window from a file manager.
Burning audio discs is easy if you have the right gstreamer plugins installed. Adding a mp3 file to a audio CD will work fine if you have a gscreamer plugin for mp3 files installed. The same applies to other audio file formats, xfburn can use any audio file format gstreamer can open to create audio CDs.
xfburn does NOT support creating video CDs or DVDs or BlueRay discs. You can burn a ISO image of a video DVD to a disc. You can not select some video files and use them to create a working video DVD disc, you will need some other software if you want to create a burnable video DVD image.
xfburn does not have some of the more advanced options similar software like K3B has for things like ripping audio CDs and things like that. It does have all the basics covered.
Verdict And Conclusion
Xfburn is an alright program if you want to burn discs for some reason and it is, unlike a lot of other CD/DVD/BD burning software, still updated as of March 2020.