Wumpus
From LinuxReviews
Jump to navigation
Jump to search

Wumpus is a text-only turn-based strategy game written by Eric S. Raymond in C in 2015. It is an exact clone of a much, much older game named Hunt the Wumpus. The original was written in the BASIC programming language. It is not particularly fun or exciting to play.
Gameplay
$ ./wumpus 
INSTRUCTIONS (Y-N)
?y
WELCOME TO 'HUNT THE WUMPUS'
  THE WUMPUS LIVES IN A CAVE OF 20 ROOMS. EACH ROOM
HAS 3 TUNNELS LEADING TO OTHER ROOMS. (LOOK AT A
DODECAHEDRON TO SEE HOW THIS WORKS-IF YOU DON'T KNOW
WHAT A DODECAHEDRON IS, ASK SOMEONE)

     HAZARDS:
 BOTTOMLESS PITS - TWO ROOMS HAVE BOTTOMLESS PITS IN THEM
     IF YOU GO THERE, YOU FALL INTO THE PIT (& LOSE!)
 SUPER BATS - TWO OTHER ROOMS HAVE SUPER BATS. IF YOU
     GO THERE, A BAT GRABS YOU AND TAKES YOU TO SOME OTHER
     ROOM AT RANDOM. (WHICH MAY BE TROUBLESOME)
TYPE AN E THEN RETURN 
?e
     WUMPUS:
 THE WUMPUS IS NOT BOTHERED BY HAZARDS (HE HAS SUCKER
 FEET AND IS TOO BIG FOR A BAT TO LIFT).  USUALLY
 HE IS ASLEEP.  TWO THINGS WAKE HIM UP: YOU SHOOTING AN
ARROW OR YOU ENTERING HIS ROOM.
     IF THE WUMPUS WAKES HE MOVES (P=.75) ONE ROOM
 OR STAYS STILL (P=.25).  AFTER THAT, IF HE IS WHERE YOU
 ARE, HE EATS YOU UP AND YOU LOSE!

     YOU:
 EACH TURN YOU MAY MOVE OR SHOOT A CROOKED ARROW
   MOVING:  YOU CAN MOVE ONE ROOM (THRU ONE TUNNEL)
   ARROWS:  YOU HAVE 5 ARROWS.  YOU LOSE WHEN YOU RUN OUT
   EACH ARROW CAN GO FROM 1 TO 5 ROOMS. YOU AIM BY TELLING
   THE COMPUTER THE ROOM#S YOU WANT THE ARROW TO GO TO.
   IF THE ARROW CAN'T GO THAT WAY (IF NO TUNNEL) IT MOVES
   AT RANDOM TO THE NEXT ROOM.
     IF THE ARROW HITS THE WUMPUS, YOU WIN.
     IF THE ARROW HITS YOU, YOU LOSE.
TYPE AN E THEN RETURN 
?e
    WARNINGS:
     WHEN YOU ARE ONE ROOM AWAY FROM A WUMPUS OR HAZARD,
     THE COMPUTER SAYS:
 WUMPUS:  'I SMELL A WUMPUS'
 BAT   :  'BATS NEARBY'
 PIT   :  'I FEEL A DRAFT'

HUNT THE WUMPUS

BATS NEARBY!
YOU ARE IN ROOM 6
TUNNELS LEAD TO 5 7 15

SHOOT OR MOVE (S-M)
?s
NO. OF ROOMS (1-5)
?3
ROOM #
?2
ROOM #
?3
ROOM #
?1
MISSED

BATS NEARBY!
YOU ARE IN ROOM 6
TUNNELS LEAD TO 5 7 15

SHOOT OR MOVE (S-M)
?

You can either shoot or move each turn, and that's about it. You'll end up dying sooner or later if you have the patience to play long enough.
Verdict And Conclusion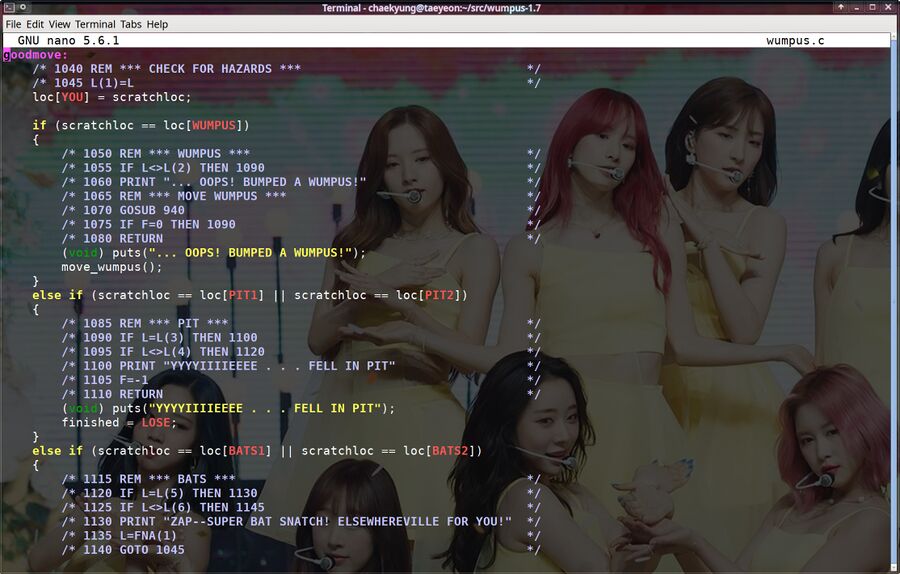 The wumpus.c source code for Wumpus includes the original games BASIC code as comments.
Wumpus isn't the most exciting game you can play on modern computer hardware, it is actually quite dull. Looking at wumpus.c is probably more fun than the actual game if you are a wizard who reads C.
Installation
The source code can be acquired from the games homepage at www.catb.org/~esr/wumpus/. Just exact it and run make to compile, there are no dependencies beyond a standard C library and a compiler.
Links