Skrooge
From LinuxReviews
Jump to navigation
Jump to search

Skrooge is a personal finance manager which lets you make budgets, track income and expenses and run simulations based on different decisions. It is an easy to use alternative to maintaining a spreadsheet for the purpose of getting an overview of personal finances. Skrooge is geared towards managing personal finances, there is no double book-keeping or tax management or other features you would need to manage a small or medium-sized business.
Features and usability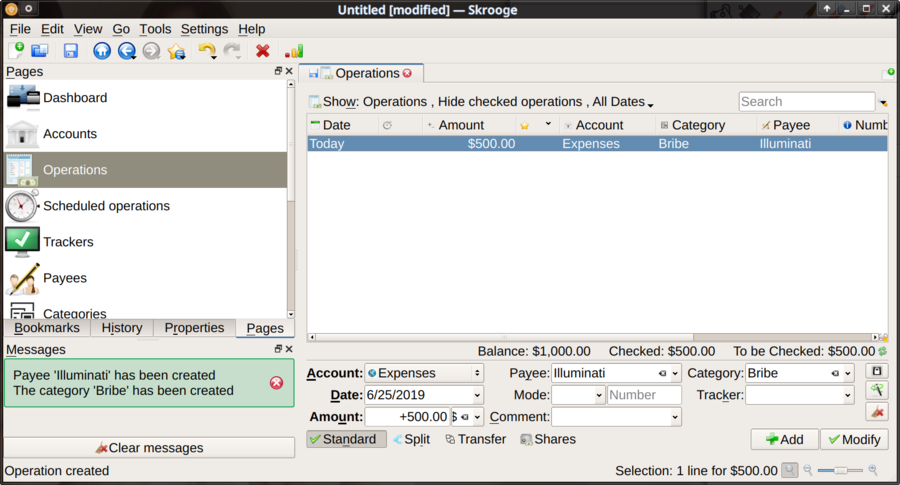 Skrooge has a dashboard and separate tabs for managing accounts, "operations", scheduled operations, trackers, payees, categories, budget, "search and progress", report, monthly report, units and simulations.
Using Skrooge is not very strait-forward and the user-interface is kind of inconvenient.
We did not do an in-depth test of Skrooge since we immediately did not like it. There's too many tabs and too many fields to navigate to enter something as simple as a bill. Adding one to a standard double-booking budget spreadsheet takes like 3 seconds. Doing the same in Skrooge feels like a huge undertaking.
Skrooge comes with a built-in manual available in the "Help" menu. It is quite in-depth and it has a section called Using Skrooge (beginner) which may be useful if you're clueless.
Verdict and conclusion
It's a personal finance manager and it looks like it has the features required for that purpose. The programs interface isn't very polished or strait-forward to use.
Using Skrooge isn't faster or simpler than using a double-book setup in a spreadsheet program like LibreOffice's Calc if you have actually taken the time to make such a spreadsheet. If you did that 10+ years ago and that's what you are used to then Skrooge is probably not for you. If you on the other hand have no idea how to use a spreadsheet then perhaps Skrooge is simpler to use.
Skrooge is available in all the distributions repositories. None install it by default but they all have it available in their package-manager. There is also Appimage, Snap and Flatpack versions for Linux users and packages for MacOS and Windows available at https://skrooge.org/download. The download page also lists a version for Opensuze, with a z.
Links
Skrooge's website is at https://skrooge.org/