Signal
From LinuxReviews
Jump to navigation
Jump to search

Signal is an open source chat app for Android, IOS, Windows, and Linux written in Java. It supports sharing images, video, and other files. It has support for stickers, video calls, video calls, and group chats. It's main target is to be an end-to-end encrypted messenger that works for non-computer savvy people. Signal provides download instructions for 64 bit Debian-based systems and there is a community maintained Flatpac that can be installed on other distros.
Features And Usability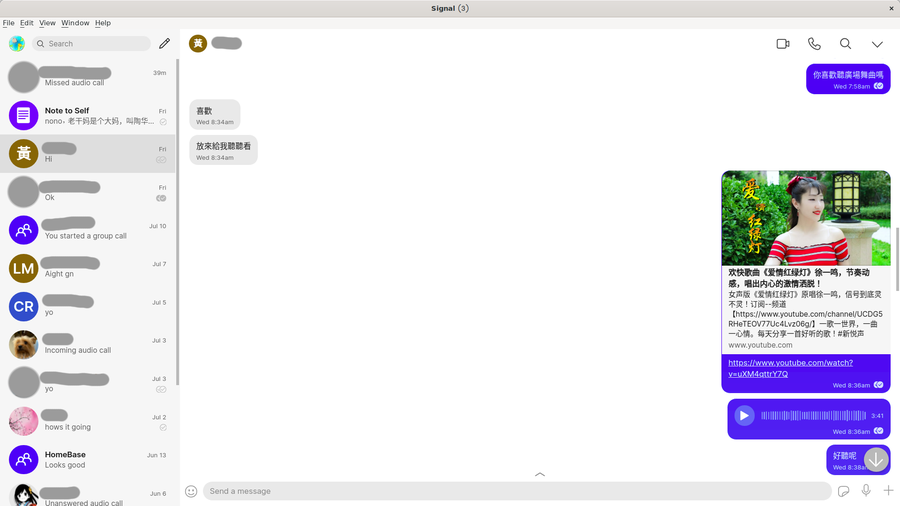 Signal desktop (Names and faces were censored)
Signal desktop has a minimalist and straightforward interface where recent chats appear on the left, the main chat in the centre, and text input at the bottom. On the top left, there is a search bar that notably does not work well with non Latin characters. You are able to make voice, video calls, search and access chat settings with the icons on the top right.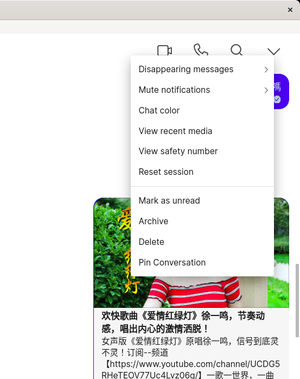 Signal has a feature called "disappearing messages" which allows users to set a timer for how long messages last before they get deleted. This can provide extra comfort to users who feel that their privacy may be invaded at home by automatically deleting messages before others snoop on their electronics.
Messaging
Messaging works similar to most other messaging apps and allow you to send very long text. People can quote, react with emojis, and forward messages. Messages can also either be personally deleted or deleted for everyone. Both 1 on 1 and group messaging works without issues.
Calls
Voice and video calls are a mixed bag. The audio quality is generally acceptable, but there is a noticeable lag from 1-15 seconds. This leads to a chat experience where people can often talk over each-other accidentally and meaningful moments may be dulled. The experience becomes worse when calls get relayed through Signal servers as they often get dropped. On the other hand, video streams are of pretty good quality and, on desktop, support useful features like screen sharing.
This is granted that your call goes though. Often Signal calls take a minute or two to ring and may continue to ring even after the other person canceled the call. Combined with the fact that two people calling at the same time often leads to both calls being missed, calls are the weakest part of signal so far.
Stickers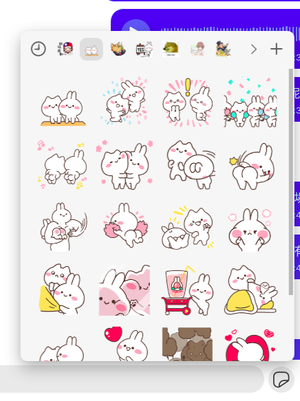 By and far the most important thing about a modern messaging app is stickers. How would be able to express ourselves if we didn't have a funny and wacky pictures to show our emotion? Luckily, Signal supports an encrypted mechanism to store and deliver stickers. These stickers get recommend based on the emojis you type or you can directly select the sticker to upload.
If you notice that the image is pixelated, that is because the sticker selector is very tiny on Signal desktop. The sticker selector does not scale up or down depending on monitor resolution or the app size so it can be difficult to spot stickers on the desktop app.

Signal stickers is the main repo where you can download hundreds of sticker packs for free, like this one for WJSN.
On the bright side, creating and installing stickers is relatively easy. The desktop and phone app allows you to upload a series of small photos or gifs to create a sticker pack. You could also go to Signal stickers and download as many sticker packs as you want for free.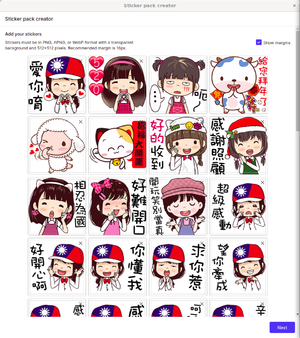 File Upload
Signal supports file uploads of up to 100 MB. For many, this is enough, but uploading long footage, especially in 4k, can often be impossible on signal. When compared to other popular open source chat app Telegram, Signal pales to its 2 GB upload limit. Images are, by default, compressed which may make them horrbile to look at, but this can be opt out of on the desktop client. It is able to support most major video, audio, and image formats. Files which it cant support, like PDFs, can still be uploaded and downloaded.
Privacy
Signal advertises itself on its privacy, and it lives up to the promise in many regards. It is not an anonymous app as is still requires people to sign up with their phone number.
Encryption
All signal messages, including stickers, are end-to-end encrypted. This stops man in the middle attacks from snooping in and seeing what you have sent people. For voice and video calls, Signal uses a modified version of WebRTC called RingRTC that is used to encrypt audio and video (Be warned: there have been successful attacks against WebRTC where people have been able to correctly guess what someone is saying without having to decrypt the data).
| | |
| --- | --- |
| | TIP: There have been successful attacks against WebRTC where people have been able to correctly guess what someone is saying without having to decrypt the data so it may be more secure to use text. |
Open Source
While open source doesn't necessary means something is private, it allows people to verify the privacy of the app. With over 160 contributors and multiple security audits, there has been great scrutiny in terms of security.
The desktop app's GitHub is frequently updated and has clear commits that can be tracked. On the other hand, the Signal's server source code has a patchy history where it has not been regularly updated.
Should you use it
Signal's main goal is to bring privacy to a general audience. Due to this, extra privacy measures that some people are used to are not there. This is not to say that Signal is insecure, but if you need something as private and anonymous as possible, then signal is not for you.
If you have people living in China or Egypt, it may be better to find another app as it is banned there. (Be warned: We Chat and Facebook both have backdoors and collect personal information)
If, you want a general messenger that you can use with your grandma 100 miles away without having to worry about technical issues or human error, then Signal may be a good choice.