Secret Maryo Chronicles
From LinuxReviews
Jump to navigation
Jump to search

Secret Maryo Chronicles (smc) is a free software 2D jump and run platform game very similar to the classic Super Nintendo "Super Mario" game. The gameplay is essentially the same. The graphics is much, much better. Secret Maryo Chronicles is made using SDL and it uses OpenGL to draw high-quality graphics. It is essentially like playing the old Super Mario game with prettier and more modern graphics.
Secret Maryo Chronicles is free software licensed under the GNU GPL. Is is available for GNU/Linux, Windows and macOS.
Graphics and Gameplay
Super Maryo Chronicles is a jump and run platform game. Maryo is controlled with the arrow keys. a is used to run, s is used to jump and space makes him fire if you have found a mushroom and a flower power-up. Jumping on enemies disables or kills them - most of the time.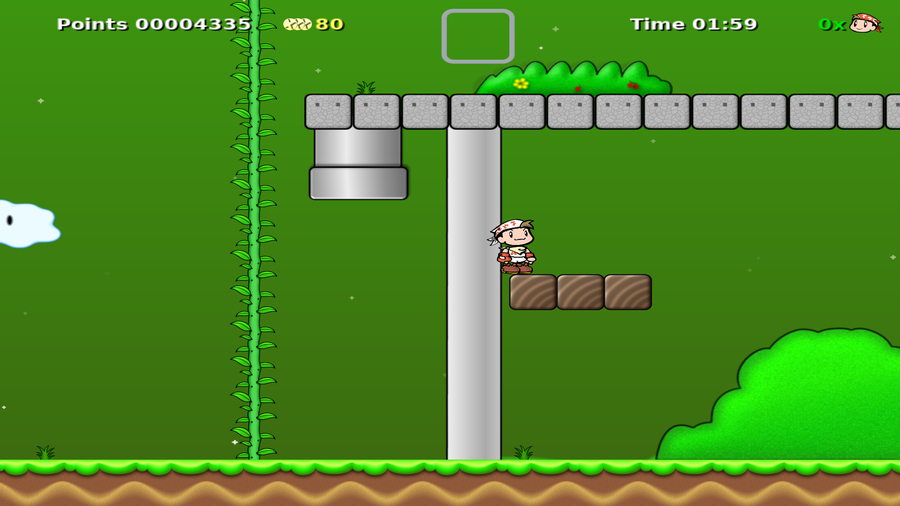 Super Maryo Chronicles. Maryo has found a power-up and changed appearance accordingly.
You know what this game is about if you ever played or just seen the "Super Mario" platform game from the Nintendo game consoles. It is essentially that game with much better graphics. The game is visually beautiful. There is not that much to it, it is a 2D game after all, but the graphics is great for a classic 2D side-scroller. The graphics is better than what the very similar SuperTux game offers.
Installation
Super Maryo Chronicles was originally released in 2003 with a last, final, release in 2009. It is no longer in development.
All the major GNU/Linux distributions have it in their repositories as a package which is typically named smc
There are also Windows and macOS versions available on the smc download page.
Links
Secret Maryo Chronicles has a homepage at www.secretmaryo.org.
Notable Forks
The Secret Chronicles of Dr. M. (TSC), developed at github.com/Secretchronicles/TSC, is a Secret Maryo Chronicles fork which uses the same game engine as a basis for a completely different type of 2D side-scroller game.