Phosphorysation
From LinuxReviews
Jump to navigation
Jump to search

Phosphorysation recorded 1080p.
Phosphorysation
Original author(s)
Amnesty
Initial release
August 31, 2019
Operating system
Windows (OpenGL)
Size
236 MiB (extracted)

Phosphorysation by Amnesty is a, size-wise, really big PC scene demo for Windows by the PC scene demo group Amnesty. Simple old-school graphics with thing lines and very bright and shiny colors. It is a bit long and a bit repetitive (three and a half minutes of mostly the same), and the sound track isn't all that, but it's alright, even if it's not great.
Phosphorysation won 5th place at the Xenium 2019 PC demo competition. This doesn't say all that much since there were only five entries in the PC demo competition at Xenium that year.
Wine Compatibility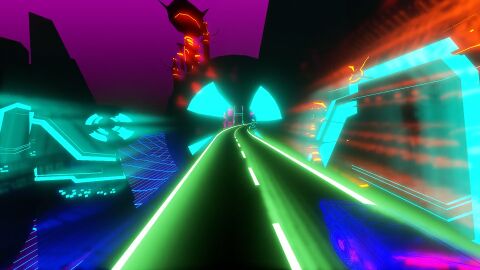 Phosphorysation works fine in Wine 6.x. It uses OpenGL to render the graphics, so add-ons like DXVK won't do anything for it since it does not use DirectX.
Phosphorysation insists on opening full-screen, and that is not negotiable with any configuration options. The trick to running it in a window, if you so desire, is to run wine winecfg where you can tell Wine to Emulate a virtual desktop under Graphics (The demo will then be contained to whatever "virtual desktop" size you choose).
Size
The most unimpressive aspect of the Phosphorysation demo is it's shear size, it's a whopping 236 MiB extracted. That may not sound like all that much, but it is a lot for a PC scene demo (remember, there's typically 4k demo competitions at demo parties). tar c -I"pxz -9" -f, using the Parallel LZMA compressor for XZ at compression level nine, manages to squeeze that down to 91 MiB. That's still pretty big. Part of the reason is probably that it includes a lot libraries like SDL, Python 2.79, OpenAL32 and a lot of other libraries.
Download
[ Demo compo phosphorysation by amnesty.tar.xz] (91 MiB)