NoScript
From LinuxReviews
Jump to navigation
Jump to search

NoScript is a handy browser extension for Mozilla Firefox which allows you to turn JavaScript on or off on a per-site or per-domain basis. That used to be a handy method of blocking advertisements, trackers and other unwanted content. NoScript is, as of late 2019, highly impractical to use and we do not recommend it to anyone but the most hardcore and computersaavy web surfers.
Features and Usability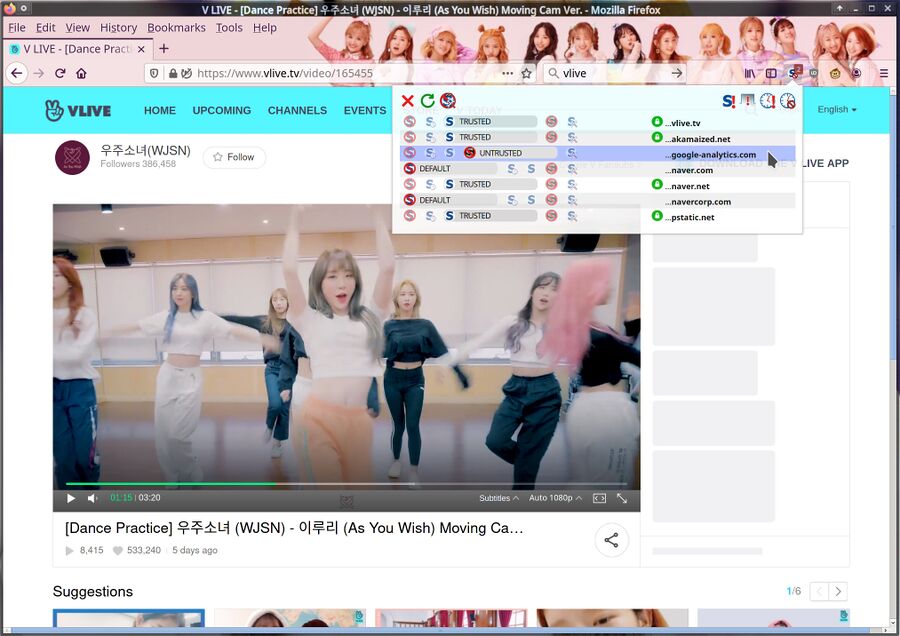 The NoScript extension running on in Firefox 71.
The NoScript extension adds a handy little S (for NoScript) button to Mozilla Firefoxs toolbar. Clicking this button brings up a list of domains hosting JavaScript files that are used by the page you are viewing. Each domain, or sub-domain, can be blocked (described as "Untrusted"), allowed (described as "Trusted") or temporarily allowed. Trusting a script from one subdomain may add additional domains to the script list upon a refresh. This happens when JavaScript from one site tries to load even more JavaScript from other sites.
NoScript used to be a nice way of blocking advertisements, trackers and other garbage. Most sites used to have one or no scripts for their actual functionality and perhaps two or three external scripts that were used for advertisements. This is not the case late 2019. A majority on the sites on the Internet require a whole lot of JavaScript scripts and libraries from a lot of different sites to function properly.
Some sites will simply show a blank page when NoScript is installed and activated. Those who do show something are mostly broken. Either the menus don't work or videos won't play or something else is broken. It is possible to use NoScript to selectively turn the scripts that are required on and use websites normally. However, it requires a lot of work. Experimentation is required to find out which scripts are needed to make a site work properly. Finding out what scripts are needed involves turning scripts on and refreshing the page until the functionality you are looking for appears to work as it should. You may find that you have activated several evil script by the time you get to the ones which are actually required and now you're wasting time trying to find out which of the scripts you just activated can be safely turned off.
Verdict and Conclusion
The modern Internet is riddled with annoying JavaScript. Many scripts are used to display silly messages nobody wants to see.
NoScript was an almost essentially Firefox extension to have from around 2005 to sometime around 2010-2015. It was fairly strait-forward to enable the one script which was served from the site you were visiting while leaving third party scripts off. The massive increase in mostly not required or desired JavaScript use on the "modern" web has turned NoScript into a overall bad user-experience. It can be useful if you have the patience to investigate each sites JavaScript usage - but that requirement is a problem. It is time-consuming and frustrating to experiment with NoScripts per-domain permissions in order to get websites working.
NoScripts big flaw is that it defaults to breaking a vast majority of the websites you visit which means that time-consuming manual intervention is required to get sites working more often than not.
NoScript may be for you if you are very concerned about scripts running in your browser and you have the patience to play with JavaScript permissions every time you visit a new site.
Ublock Origin, available for both Chromium and Firefox, is a much better way of making a modern web riddled with advertisements, cookie-warnings, pop-ups about privacy policies and newsletters and other trash feel bearable.
Links
NoScript's website is at https://noscript.net/