Humble Bundle
From LinuxReviews
Jump to navigation
Jump to search
Humble Bundle, Inc.

Type

Subsidiary
Industry
Games, e-books
Founded
November 24, 2010
Founders
Headquarters
,

United States

Area served

Worldwide
Parent company
IGN Entertainment (2017–present)
Website
humblebundle.com

Humble Bundle is a web-shop offering bundled collections of games and e-books. Most of the games in their bundles are for the proprietary Windows operating system but they do sometimes offer bundles with several games that have native Linux versions.
The Humble Bundle Affiliate Program
Humble Bundle became of interest to use because they have a "partner" affiliate program where partners can link to their website and earn a commission on sales generated when someone follows a partner link.
This website served Humble Bundle banners and advertisements to visitors who either reject the annoying cookie warning Europeans get or send a "Do Not Track" web browser header from December 2019 to September 2020.
The total revenue generated by serving Humble Bundle advertisements to this sites more privacy-aware visitors for almost a year amounted to a theoretical total of $5.41. The practical total is zero since $5.41 is below the payment threshold.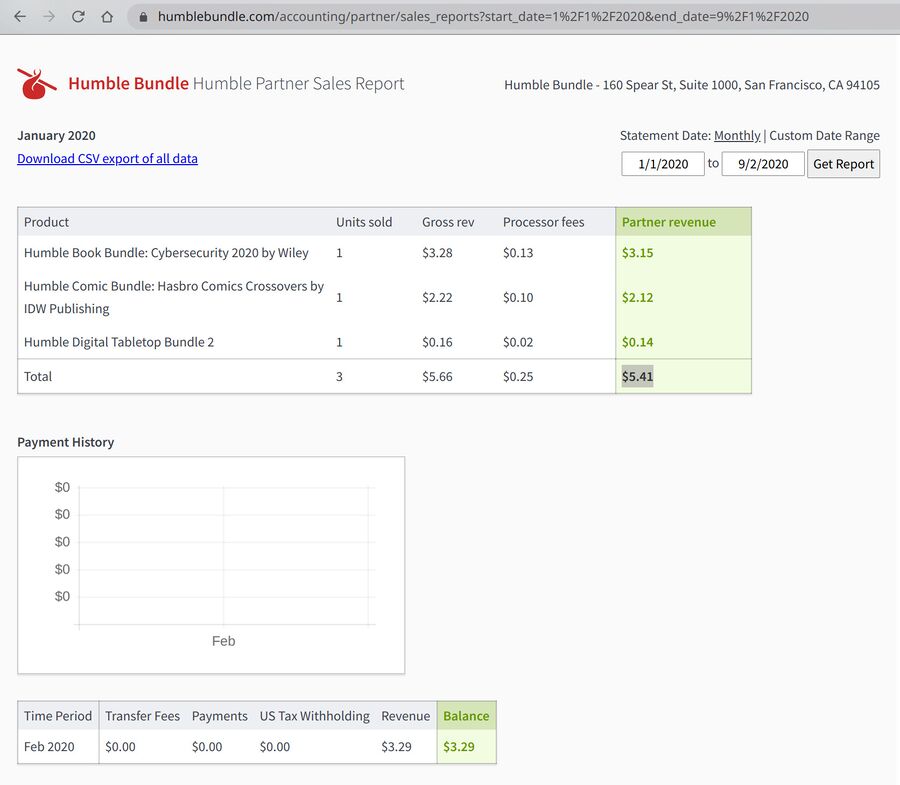 Our Humble Bundle sales report for 2020.
Exactly how many people viewed the Humble Bundle advertisements we served, and how many actually clicked on them, is unknown. They were, after all, mostly served to visitors who have configured their web browser to send a "Do Not Track" web browser header. About half a million is rough estimate in the right ball-park.
We have stopped using Humble Bundle banners and advertisements for obvious reasons..