SuperTuxKart 1.2 Is Released With Improved Carts, Better Gamepad Support, Improved Tutorials And More
From LinuxReviews
Jump to navigation
Jump to search

The latest release of the best free kart racing game has new re-vamped Kiki, Pidgin and Puffy karts, a better tutorial for new users, greatly improved gamepad support thanks to SDL2, full IPv6 LAN and WAN support and greatly improved server performance for those running SuperTuxKart game servers. The ranking system has changed, but that is only server-side so online gameplay is still compatible with previous versions.
written by 윤채경 (Yoon Chae-kyung)  2020-08-30 - last edited 2020-09-01. © CC BY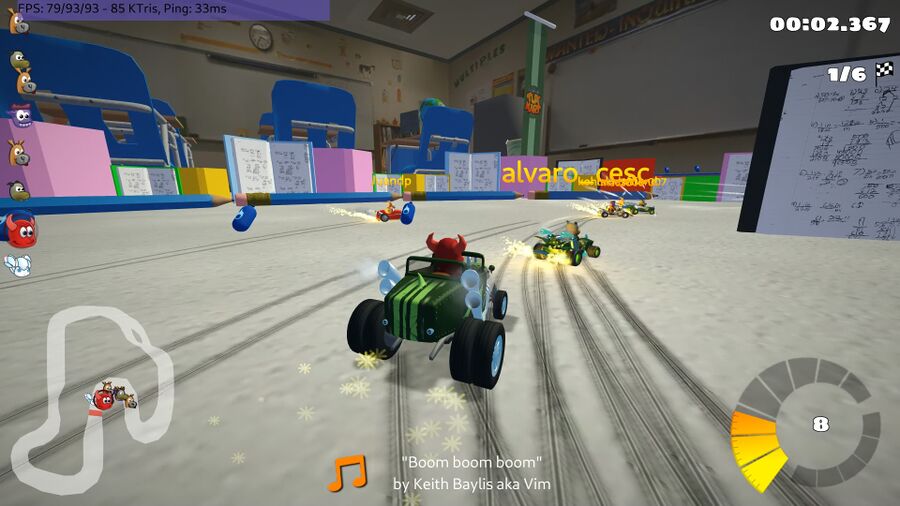 SuperTuxKart git snapshot on GNU/Linux.
The free kart racing game SuperTuxKart has come a long way since it was originally released in 2007. The modern version has great graphics, online game-play, a single-player story mode, time trials, a special "soccer" mode and a Easter egg hunt mode. The game is available for most platforms, including GNU/Linux, Haiki (as of STK 1.2), Android, macOS and iOS.
SuperTuxKart 1.1, released in January 2020, brought many improvements to the online game-play functionality. SuperTuxKart 1.2 builds upon that and brings a new re-thought ranking system to the table. The ranking system changes are all server-side, so online game-play remains compatible with earlier versions.
New And Improved Karts

The new Kiki kart in SuperTuxKart 1.2.
SuperTuxKart features new and improved Kiki, Pidgin and Puffy karts. Those are the only three changed in this release. The Hong Kong Pig kart did not make it into the final release. It remains available as an add-on.
A Better Tutorial
The SuperTuxKart "Story Mode" includes a tutorial new players can use to learn the basics. This tutorial has been re-worked and greatly improved in SuperTuxKart 1.2. There are now platform-specific instructions depending on what kind of platform the game is being played on.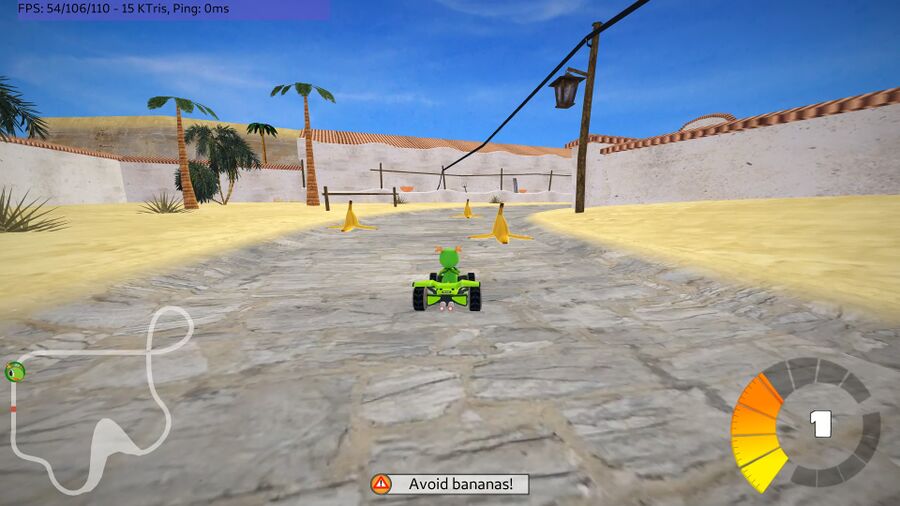 SuperTuxKart tutorial: You must AVOID THE BANANAS!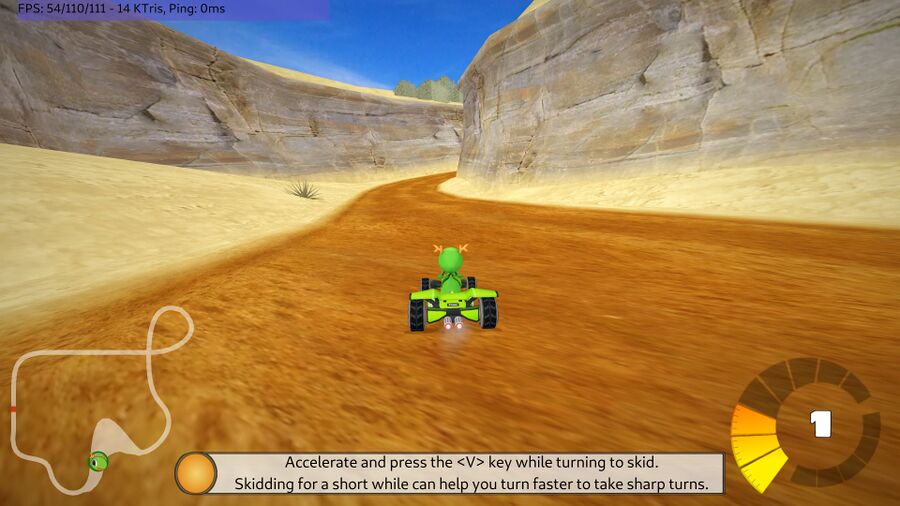 SuperTuxKart tutorial: You can press V to skid.
Better Gamepad Support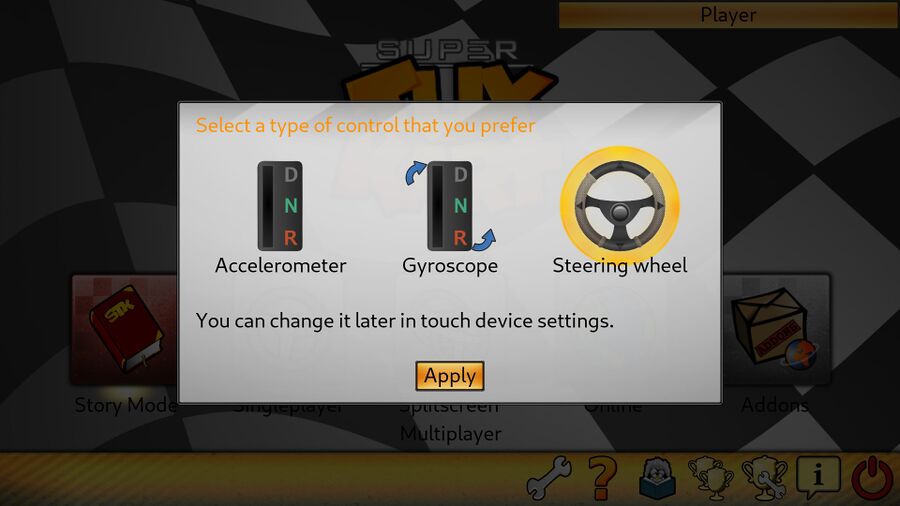 SuperTuxKart for Android can be controlled using accelerometer, gyroscope, a on-screen steering wheel or a bluetooth gamepad.
SuperTuxKart 1.2 uses SDL2 to provide gamepad support. Many of the gamepad fixes are specific to bluetooth gamepads connected to Android devices while some of them benefit all the platforms SuperTuxKart supports.
It is now possible to connect USB joysticks and gamepad to Linux machines while the game is running. Previous versions will simply ignore USB connected gamepads unless they were plugged in before SuperTuxKart is started.
The settings interface for re-mapping gamepad buttons, and keyboard keys, has been re-worked in order to make re-mapping easier.
A Better And Complete Android Version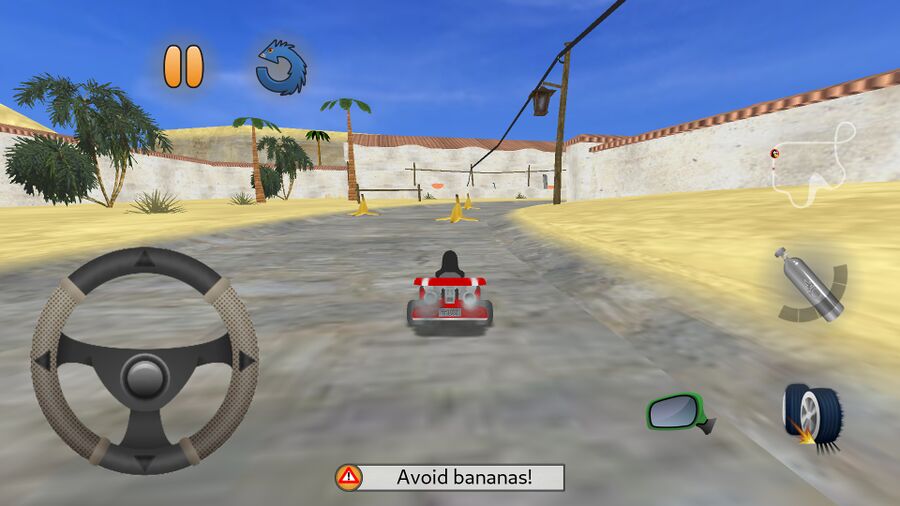 SuperTuxKart git20200711 running on Android.
SuperTuxKart for Android has previously had far less tracks than the desktop versions due to file size limitations.
"because google apk size limit. we now use android app bundle (max allow 150mb) so ok"
anonymous SuperTuxKart developer
[1]
SuperTuxKart 1.2 for Android includes a lot more karts and tracks than the previous Android releases did.
SuperTuxKart is fairly popular on Android with more than 220 thousand downloads and more than 25 thousand "active" users playing it regularly. The on-screen controls in the Android versions have also been improved and fixed in this release.
New "Cartoon" Skin
SuperTuxKart 1.2 includes a new "Cartoon" skin. The old skin remains the default. The "Cartoon" skin can be activated in menu options ▸ Interface there there is a Skin slider.
Better and More Efficient Server-Code
Anyone can install SuperTuxKart and set it up as as game server available to everyone on the Internet or just the local network. The server code in SuperTuxKart 1.2 has been greatly improved which should translate to better online game-play. There is also better server-side support for IPv6.
Players are now able to play add-on tracks that are available on a server they connect to even if they do not have those tracks installed.
The Road To SuperTuxKart 2.0
The SuperTuxKart developers have big plans for SuperTuxKart 2.0. Those plans include a complete re-implementation of the graphics engine in Vulkan. That is a big undertaking, SuperTuxKart 2.0 won't be released for quite some time. SuperTuxKart 2.0 will also feature new tracks and several of the existing tracks will see minor tweaks and improvements. That work has already begun in the svn and git trees.
Minor updates to the 1.x series will be released on a semi-regular basis until STK 2.0 is finished.
Availability
Binary SuperTuxKart 1.2 packages for Linux, Windows, Android and macOS are available from sourceforge.net /projects/supertuxkart/files/SuperTuxKart/1.2/. The source can also be acquired from that location.
Fedora has SuperTuxKart 1.2 available in the "updates-testing" repository.
The Google Play Store edition is not yet updated to version 1.2 (latest there is still 1.2rc1). SuperTuxKart 1.2 for Android is submitted to the Google Play Store and it will become available there as soon as Google approves it. Google did approve the 1.2 beta release so it is possible to use that version until Google approves SuperTuxKart 1.2 for the "stable" channel. SuperTuxKart remains unavailable in the alternative F-Droid Android app store.
The latest iOS version is only available from the Apple "TestFlight" service.
Footnotes
↑ The name of our the developer source has been anonymized to protect Benau's identity.