Strawberry Music Player 0.7 Brings Qt 6 Support, 12 Bug-Fixes And Many Improvements
From LinuxReviews
Jump to navigation
Jump to search

The latest version of the Strawberry music collection organizer and player has quite a few new features as well as many bug-fixes for those who want a learn Qt-based music collection manager that is easy to use. Norwegian developer Jonas Kvinge has been hard at work since version 0.6.13 was released in July last year.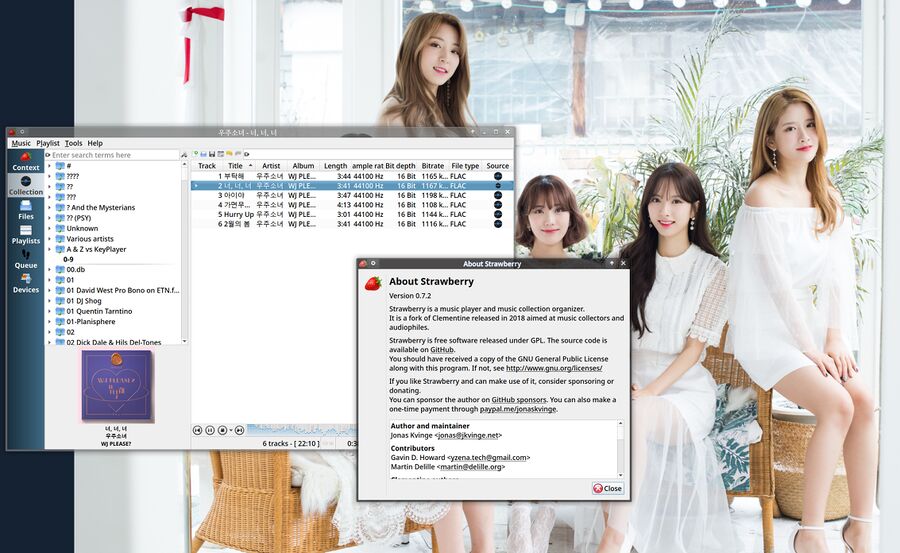 Strawberry version 0.7.2 playing a track from the WJSN album "Please".
Developer Jonas Kvinge released Strawberry 0.7.1 and 0.7.2 one day apart last week. The change-logs lists the following enhancements:
Simplified and improved startup behaviour code.
Adapted all source code to be compatible with Qt 6, and increased required Qt version to 5.8.
Added option to compile with Qt 6 (-DWITH_QT6=ON).
Base warning for show in file browser on unique directories to avoid unneeded warning about opening many files.
Use album artist instead of artist for album repeat mode when available.
Added extra safety for overwriting files for filesystem storages when organizing files.
Remove diacritics in FTS search.
Improved playlist context menu.
Added fatal CMake error for missing protobuf compiler.
Added support for parsing radio streams metadata with tilde in title.
Added CMake option to install translation files.
Increased maximum time step for seeking to 60.
(Unix) Added playback actions to desktop file.
(macOS) Hide behavior settings that are unavailable on macOS.
(macOS) Fixed compile warnings.
(macOS) Added Sparkle integration to notify on new versions.
(Windows) Added QtSparkle support to notify on new versions.
There are also a total of 12 fixed bugs listed in the changelog.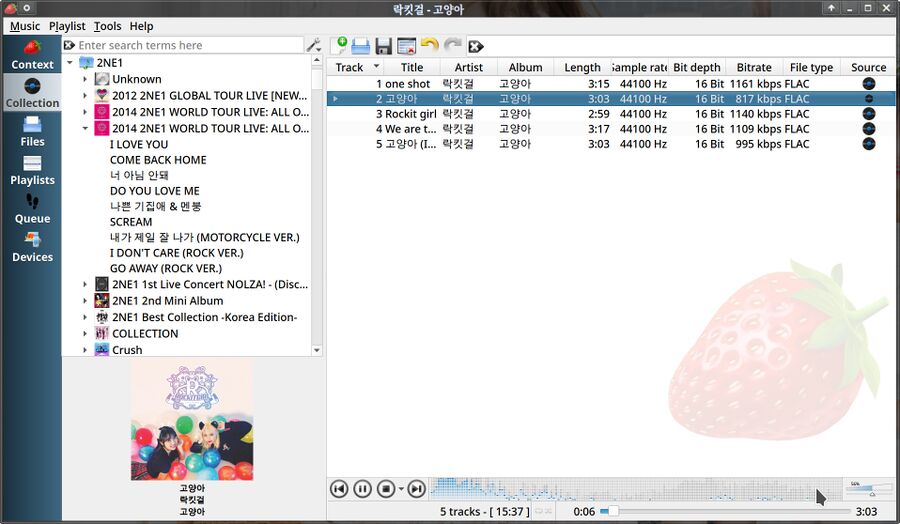 Strawberry v0.7.2 playing "Little Cat" by Rockit Girl.
Strawberry 0.7.2 would not start when we tried to launch it after installing the latest version using a native distribution package available at strawberrymusicplayer.org. Eradicating the old music collection database from version 0.6.2 in $HOME/.local/share/strawberry/ made it happily start. That "fix" made it necessary to test how long it takes for Strawberry to index 1.7 TiB consisting of 169517 audio files. The simple answer is: It takes a very long time. You will be able to go to the store and buy milk and then go to the gym and lift before it's done. You will, luckily, just have to index a large music collection once every now and then. Database problems have never been an issue when upgrading between minor versions.
Strawberry is capable of monitoring your music collection folder(s) and it will pick up new files added to any sub-folder fairly quickly.
| | |
| --- | --- |
| | TIP: Strawberry does not care what icon sizes you have configured in KDE or qt5ct, the icons will be tiny by default regardless of what you configured using other tools. You can, luckily, configure icon sizes for all the icons used in the interface in  ▸  ▸ . You can, alternatively, set the QT_SCALE_FACTOR variable and start it with something like QT_SCALE_FACTOR=1.5 strawberry to make the interface (icons, menus, everything) bigger. |
Strawberry 0.7.2 is overall a very nice release. Searching for songs, albums or artists is very fast. Adding songs from either a pre-indexed collection or the local file system to playlists, and you can have multiple open in tabs, is easy. The few annoying bugs previous releases had are all ironed out and fixed. This is a great alternative if you want a database-driven music player that lets you easily find any song that crosses your mind. A few small things are still missing, you can't tag songs with a rating and make dynamic playlists based on rating like you can in Cantata. Strawberry is, apart from some small details like that, a very solid music player.
The Strawberry music players homepage at strawberrymusicplayer.org has Linux distribution specific pagages for openSUSE, Fedora, Mageia, Debian and Ubuntu as well as an AppImage and packages for Windows and macOS. It will take some time before major Linux distributions make Strawberry 0.7.2 available in their repositories so you should probably get it from strawberrymusicplayer.org if you want a really smooth music collection player/manager.