Kali Linux 2019.4 Is Released With Windows Undercover Mode And Xfce As The Default Desktop
From LinuxReviews
Jump to navigation
Jump to search

The latest version of Offensive Security's Debian-based GNU/Linux distribution for penetration testing and other security-related tasks uses Xfce as the default desktop environment instead of Gnome. It's also got PowerShell available (not included) and a new "Kali Undercover" mode in the form of a shortcut which switches to a Windows-like Xfce theme and the well-known Windows 10 wallpaper.
published 2019-11-27 - last edited 2019-11-30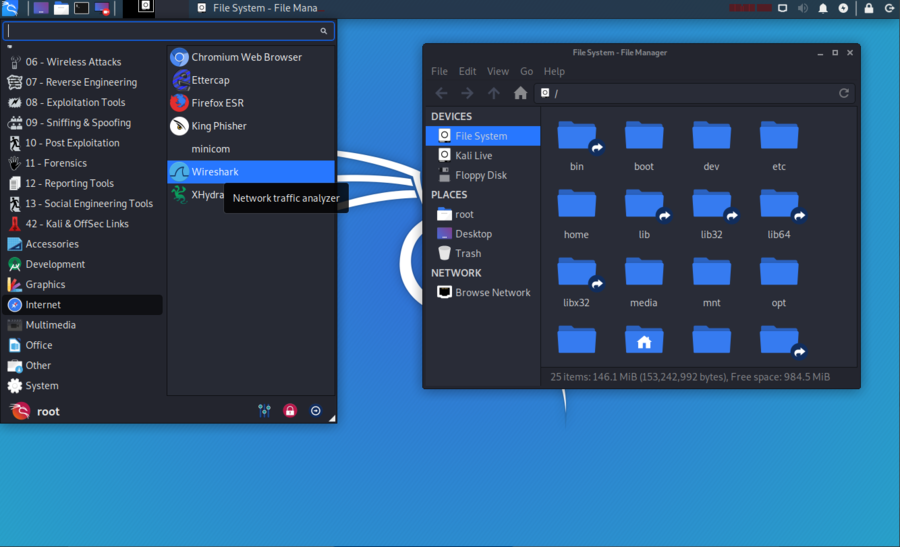 The default Xfce desktop environment in Kali Linux 2019.4.
Kali Linux is a Debian based security distribution similar to BlackArch Linux. It's ISOs can either be used to installed it or run it on a USB stick. The Live environment supports persistence with or without encryption. It's a great tool to have on a USB stick in case you want to test your own networks security or help a friend determine his network is safe and secure or wide open to attacks.
Xfce Is Now The Default Kali Linux Desktop Environment
The latest version 2019.4 has quite a few larger changes since the prior release. The change from GNOME to Xfce as the default desktop environment is one which is immediately apparent. The release announcement states several reasons for this change.
"We wanted to go with something fresh, new, and modern."
Performance and a fractured user experience were additional reasons for the move to Xfce. There are Kali versions for 32-bit and 64-bit x86-64 machines, ARM and VMware. The x86-64 version used to have GNOME as a default but the ARM version did not. Xfce is light enough to run fine on just about anything which makes it a great choice for a distribution targeting anything ranging from weak ARM single-board computers to high-end laptops.
Kali's download page has a special 2019.4 GNOME ISO for x86-64 available as an option for those who prefer foot desktop for some reason. There's also KDE, MATE and LXDE spins for x86-64 available.
Windows Undercover Mode
Kali's new Xfce desktop has a new blue and black GTK3 theme. It looks nothing like the kind of desktop environments corporate slaves are used to seeing. It has a distinct look which could make a target organizations drones scared enough to call security. The solution is a new Undercover mode. It can be enabled using the menu item Other -> Kali Undercover Mode.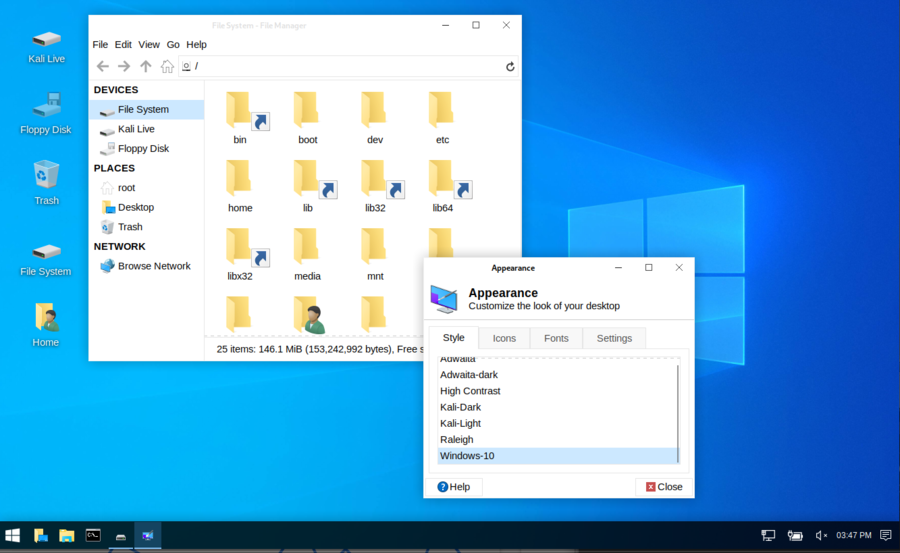 Don't packing. Nobody is doing any penetration "testing" of your top-secret high-value network, it's just some guy running Windows trying to start solitaire.
Running Xfce's "Appearance" application when the Undercover mode is enabled reveals that it's just a regular GTK theme called "Windows 10" combined with a "Windows 10" icon theme and a Windows 10 wallpaper. A close-up inspection would not fool anyone who's computer-savvy but it's convincing enough to fool anyone who takes a quick glance from a distance.
Those who are interested can easily copy the theme and icon folders (/usr/share/themes/Windows-10 and /user/share/icons/Windows-10-Icons/) and use them to make Xfce look Windows-like on other GNU/Linux distributions.
Extensive Documentation
Clicking Kali Linux's menu brings up quite the list of documentation with document names like "Information Gathering", "Vulnerability Analysis", "Password Attacks", "Reverse Engineering" and so on. The new version has a lot of updates to what already was a great set of resources for learning about computer security.
The updated documentation is written in Markdown. What markup language was used to write it matters little when you are reading it. That it's written in a very simple markup language does make a difference if you want to submit changes to it - the bar for entry is significantly lower.
PowerShell Available
Kali 2019.4 has a PowerShell package available under the name powershell (apt-get install powershell). It can be accessed with the pwsh command once the powershell package is installed. Do note that PowerShell is not included in the Live environment, you can't just put the ISO on a USB stick and boot it and run PowerShell - it's optionally available but not included.
Acquisition
https and Bittorrent download links for Kali 2019.4 are available at www.kali.org/downloads/. The default x86-64 ISO with Xfce is 2.6 GB and the "light" edition for x86-64 is 1.2 GB. The ARM version is only 792 MB.
The full release announcement can be read at kali.org.