KDE Video Editor Kdenlive 19.12 Is Released With a New Audio Mixer, Global Effects And Many Performance Improvements
From LinuxReviews
Jump to navigation
Jump to search

Four months of "intense work" and two hundred commits went into the latest version of the free video editor Kdenlive which is, as the name indicates, built on the KDE framework. It has a new audio mixer, custom filters, a master (global) effects option for the timeline and many small interface improvements. The developers have made many performance improvements under the hood which makes timeline browsing and other commonly done things snappier. Kdenlive is available for Windows and all GNU/Linux distributions.
written by 林慧 (Wai Lin) 2019-12-20 - last edited 2019-12-20. © CC BY
Exciting New Features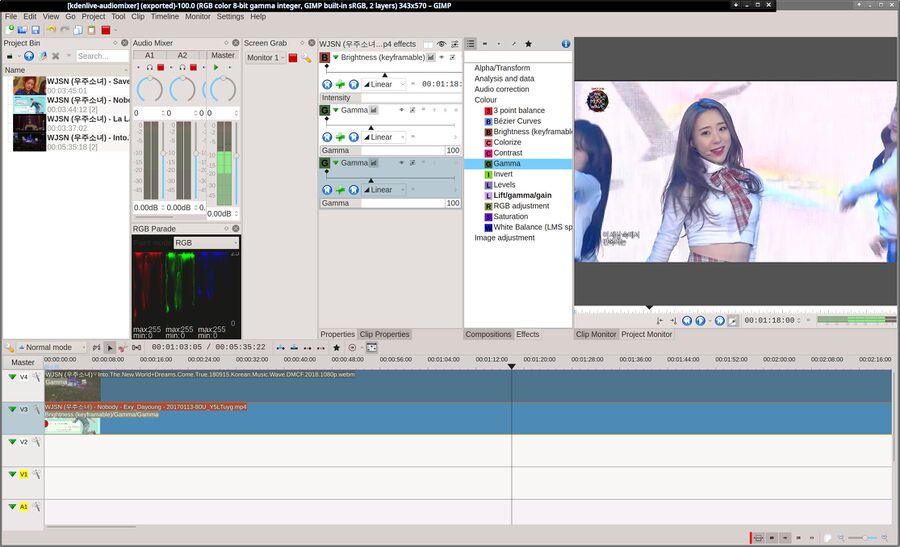 kdenlive version 20.03.70-r539f6b302 (git). Basically 19.12.
New Audio Mixer
kdenlive 19.12 has a brand new audio mixer.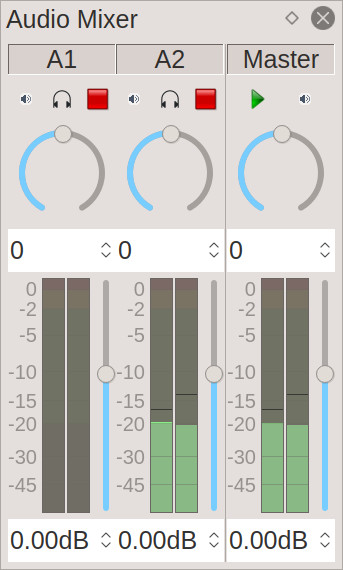 The audio mixer is one of the new features in kdenlive 19.12.
The new mixer makes it easy to record audio directly to a track in kdenlives timeline from either a microphone or another audio source. It can not be practically used with kdenlives built-in desktop recorder which is still nothing more than a record button which starts a ffmpeg background process and that's it. It can be used to do basic audio recording but it is not ideal. Using the tried and true professional free software audio recording program audacity is preferable when it comes to audio recording, mixing and so on. Open Broadcaster Studio is, of course, a lot better than the one button kdenlive has for starting and stopping screen recordings - with no indication if it's actually recording or not. The new audio mixer is there and it can be used for simple recordings so it is an improvement.
Master Effects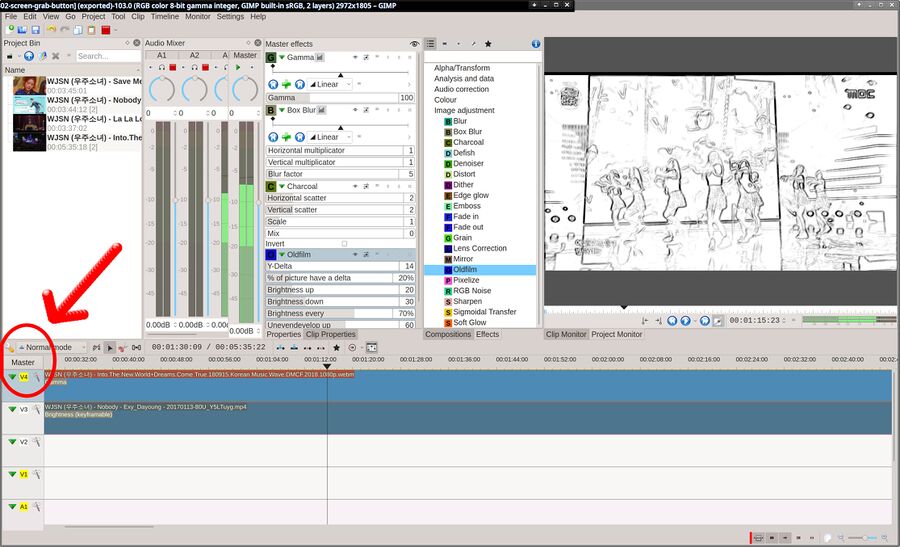 kdenlive has a brand new "Master Effects" feature.
kdenlive would previously only let you apply effects to individual clips on a timeline. The new master feature makes it possible to apply effects directly to the timeline itself. There is a new "Master" button on the top left side of the timeline which toggles it's visibility.
The new Master effects feature is really handy if you want one or more effects to be applied for the duration of a video.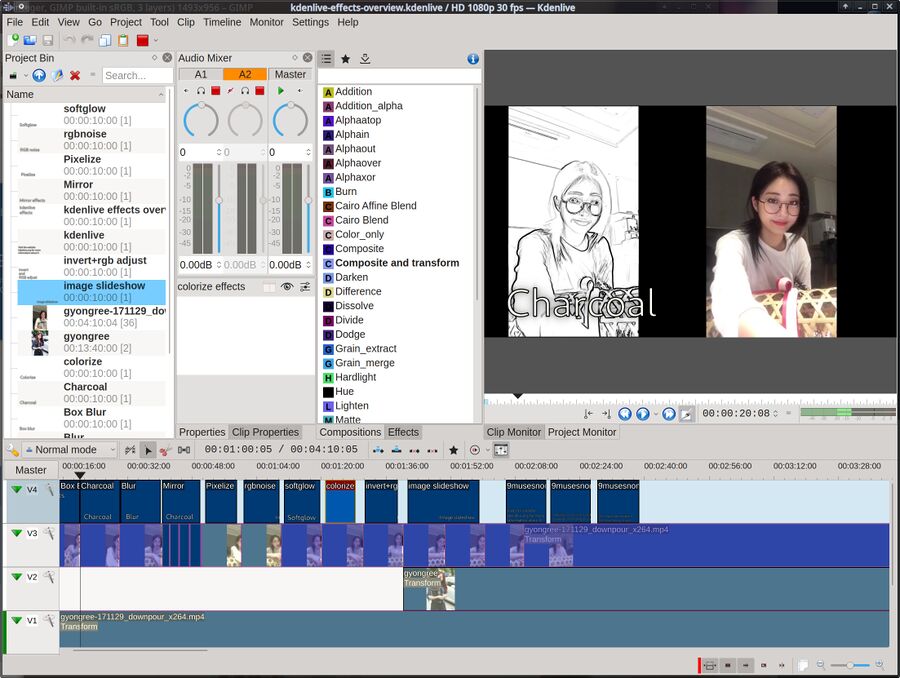 You can still apply lots of effects to individual clips if you want to. You don't have to use the new Master effects feature.
Under The Hood Improvemnets
There has been many performance-related improvements in kdenlives underlying code since the last release. It feels snappier and faster when browsing the timeline and things like that. However, kdenlive is still heavily single-threaded. This is specially noticeable when a lot of effects are applied; kdenlive will still feel slow and laggy with one core working really hard while the rest of the cores sit idly by and watch. Kdenlive 19.12 is a nice step in the right direction.


It's actually not that unexpected, it happens quite frequently and most of the crashes are easily reproduced.
There are also a lot of bug-fixes and crash-related fixes under the hood. The sum of all those are, sadly, not quite enough to make kdenlive a wonderful bug-free experience. kdenlive 19.12 has a tenancy to crash. It does that a lot. The new version is a step in the right direction but it's only a small step and kdenlive still has a long way to go before it's ready for professional use. This may sound a bit harsh, the developers put a whole lot of work and effort into this release. However, it is a present truth. A piece of software has a problem when it's frequently crashes if you just play around with it so you can take screenshots. Using it for actual professional video editing would be frustrating, to put it mildly.
Acquiring The Technology
kdenlive 19.12 can be acquired from kdenlive.org/en/download/. There are Snap, Flatpak and AppImage packages available for GNU/Linux and a Windows installer as well as a stand-alone Windows version available.
kdenlive's release announcement is at kdenlive.org/en/2019/12/kdenlive-19-12-0-is-out/. Scrolling that site with the jmouse does not work in Firefox 71 unless JavaScript is disabled with NoScript but it's possible to navigate it using the right-side scrollbar. Their site works fine in Falkon.