Don't Try Or Use Linux 5.12-rc1
From LinuxReviews
Jump to navigation
Jump to search

Linus Torvalds has renamed Linux 5.12-rc1 to 5.12-rc1-dontuse in git and the release has been pulled from kernel.org due to an extremely unfortunate bug related to swap files, not swap partitions, that could cause random files to be overwritten with garbage data. You may want to revert to a previous kernel if you've already upgraded to Linux 5.12 rc1.
written by 林慧 (Wai Lin) 2021-03-05 - last edited 2021-03-05. © CC BY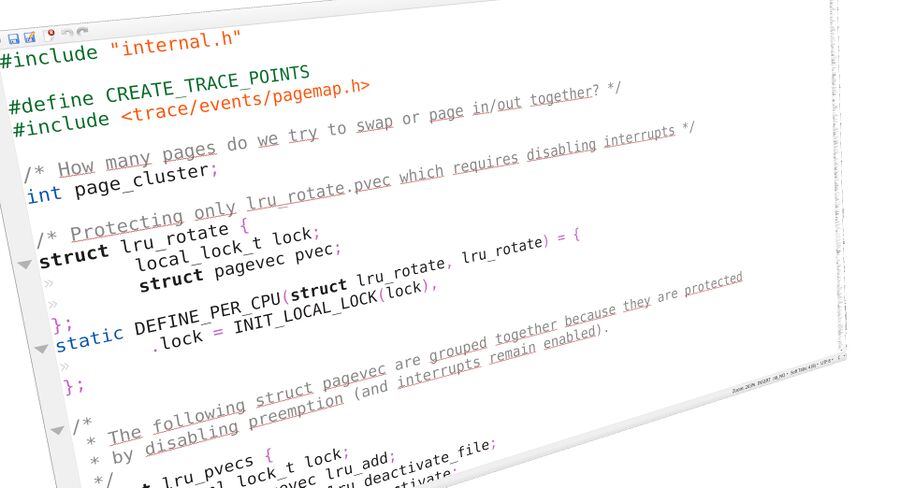 mm/swap.c from Linux kernel 5.12rc1.
The first Linux 5.12 release-candidate has a very unfortunate bug that can lead to a total disaster if you are using swap files on your Linux-machine. Linus Torvalds warned against using it in a message to the Linux Kernel Mailing List titled A note on the 5.12-rc1 tag shortly after its release. In it, he warned that:
"The reason is fairly straightforward: this merge window, we had a very innocuous code cleanup and simplification that raised no red flags at all, but had a subtle and very nasty bug in it: swap files stopped working right. And they stopped working in a particularly bad way: the offset of the start of the swap file was lost."
Linus Torvalds
He went on to say that:
"this is very unfortunate"
Linus Torvalds
The simple reason this is so unfortunate is that Linux 5.12 rc1 can corrupt your machines file system if you are using a swap file.
"I want everybody to be aware of because _if_ it bites you, it bites you hard, and you can end up with a filesystem that is essentially overwritten by random swap data. This is what we in the industry call "double ungood"."
Linus Torvalds
The good news for anyone who is not using a regular file on a file-system as a swap is that this bug only affects swap files. There is no chance of a total disaster if your swap is at a separate swap partition. The very bad news is that you are probably screwed if you manually created a swap file on a regular file system and you have been using Linux 5.12-rc1 a day or five since it became available on February 28th.
The Linux Kernel release-candidates are not meant for end-users and you should not use them unless you know what you are doing because these things do happen from time to time. The first release-candidate of a new major kernel version is specially risky; there has historically been several bugs that are worse than this one in -rc1 kernels. We recommend that end-users wait for the second minor release of a new major kernel version (as in 5.11.2) before upgrading since there are, from time to time, issues with the first final release of a new kernel. Using a -rc kernel, and -rc1 kernels in particular, is not worth the risk unless you really want to explore the huge improvements in AES-XTS performance in Linux 5.12 or other features in an upcoming Linux kernel.