Current Ethereum Network Fees Are Killing CryptoCurrency Tokens Like The Brave Browsers BAT Currency
From LinuxReviews
Jump to navigation
Jump to search

Creating digital tokens with zero intrinsic value out of thin air so you can sell them to suckers and pocket anything they are willing to pay as pure profit is even more profitable if you can create those tokens on somebody else's blockchain and call it a day. Those bought tokens on the Ethereum blockchain are finding themselves facing unbearably high fees.
written by 林慧 (Wai Lin) 2020-08-13 - last edited 2021-03-07. © CC BY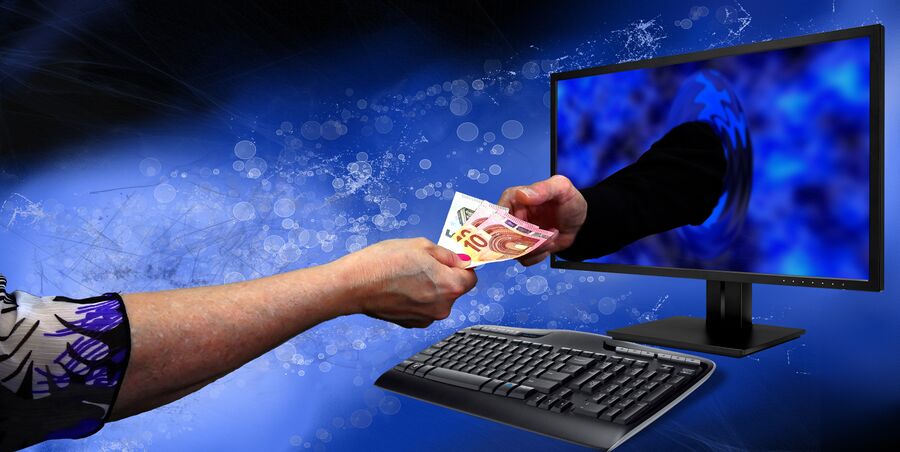 The cost of using the Ethereum network has increased by a whopping 500% since April this year due to high demand for processing power on the Ethereum blockchain. The "gas" price of a Ethereum transaction is set in Ether (ETH) currency by a internal transaction pricing mechanism using factors like demand, bandwidth and storage requirements and the required processing power. The price of a transaction goes up when demand goes up regardless of how small or large the transaction is, small transactions become more expensive and large and/or complex transactions become much more expensive.
Everyone using currency tokens on the Ethereum blockchain get to pay higher fees when the Ethereum fees go up. They are currently high enough to make any and all token on the Ethereum blockchain practically useless.
"Microtransactions Will Replace Advertising On The Web"
The Brave Web Browser has a "rewards" system where users can earn rewards in the form of a digital currency called Basic Attention Token (BAT). The Brave Browser blocks most advertisements on sites like this one by default. Brave users are encouraged to donate some of the BAT currency they earn to the websites they most visit regularly so the owners of those sites can earn back some of the pennies lost to that browsers built-in "Brave Shield" advertisement remover.
We have been a "Brave Publisher" for almost a year which means that Brave Browser can "support" this site by tipping BAT currency. We also have a download affiliate link that takes GNU/Linux users to a page listing repositories they can add to install Brave (that does not generate any of those earnings Brave's corporations affiliate page promises, it only applies to new Windows installs).
BAT currency earned by Brave Browser users and Brave publisher partners has to be withdrawn through the London-based "Uphold" online wallet service. The fees for withdrawing BAT from that service are currently ranging between 20 and 30 BAT. That works out to somewhere between $5.22 and $6.78 at the current exchange price of 0.2638 BAT/USD.
Loyal readers using the Brave Web Browser have donated a whopping 53.25 BAT worth about $14 at the current BAT exchange rate of about 0.2638 BAT/USD. That's payment for less than one hour of work over an entire year. Withdrawing those 53.25 BAT would cost us a 30 BAT fee - that's more than half of one years BAT donations and equivalent to about 8 USD. It is hard to argue that BAT donations are a realistic substitute for advertisement programs like Google AdSense.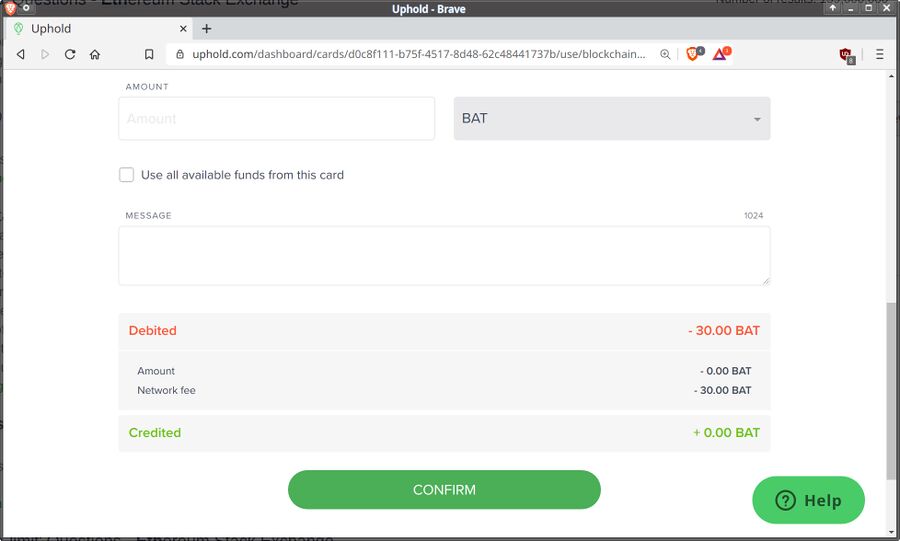 Withdrawing BAT from uphold.com will currencly cost you about eight USD worth of BAT tokens.
The currently very high Etherium network fees make all the currencies on the Etherium practically unusable for micro-transactions. Donating $1 worth of a digital currency makes zero sense when the cost of doing so will cost you somewhere between five and seven dollars.
EIP 1559 To The Rescue?
The Ethereum Foundation has long been aware that the current Ethereum gas prices is killing decentralized applications, currency tokens and everything else relying on the Ethereum blockchain. They published a proposal called EIP-1559: Fee market change for ETH 1.0 chain back in April 2019. That proposal would replace the current auction mechanism used to set transaction prices with a mostly fixed base per-block network fee ("BASEFEE"). It would also implement dynamic block sizes based on the number of transactions waiting in the processing queue.
EIP 1559 would allow blockchain users to pay higher fees to miners to skip ahead in the transaction queue while still allowing transactions with just the much lower base fee to eventually go through.
The EIP 1559 proposal was co-authored by Russian Ethereum co-founder Vitalik Buterin in addition to Ethereum developers Eric Conner, Rick Dudley, Matthew Slipper and Ian Norden.
The EIP 1559 proposal may sound like a great idea but it is not very popular among most of the Ethereum miners who are currently making a massive profit thanks to the high transaction fees. Ethereum miners opposed EIP 1559 for a full year before the rapid rise in Ethereum gas prices that begun in April this year.
End-users would benefit from a near-constant predictable base transaction fee but miners would make less when the transaction demand is high. And that is why the more than one year old EIP 1559 proposal remains a unimplemented proposal. Capacity on the Etherium blockchain is currently priced at a level where it only makes sense to use it if you are able to make $5 or more on each computational request. That's not you trying to send a tip in the form of a digital currency token on the Etherium to a friend or some website you enjoy visiting on a regular basis. It would be nice if EIP 1559 is implemented but that does not seem realistic. That is a bit unfortunate because all the currency tokens like BAT that exist on the Etherium blockchain are practically unusable and, for anyone holding smaller amounts, practically worthless until or unless the Etherium blockchains fees change. An account with tokens worth $5 in it is worthless if the price of spending those tokens is $5 or more.