Basic Attention Token (BAT)
From LinuxReviews
Jump to navigation
Jump to search
BAT is a digital currency which is closely tied to the Chromium-based Brave Web Browser. It is traded against Bitcoin and USD on more fringe exchanges like HitBTC, Binance and Bittrex as well as some bigger and cleaner exchanges like Kraken and Coinbase. BAT is a token on the Ethereum platform; it does not have it's own blockchain.
Supply
The total BAT supply will be 1,500,000,000 BAT and the circulating supply as of November 2019 is 1,356,449,189 BAT/. That is a lot of BAT currency kicking around.
1,000,000,000 BAT of the total supply was sold in an initial coin offering on May 31, 2017. The offered amount was sold for 56,250 Ethereum ($35M USD at the time) in a brief 30 seconds. The remaining 500,000,000 BAT was kept by Brave Software, Inc. 300,000 BAT was allocated to a "user growth pool" which was distributed in December, 2017.
Use and Adoption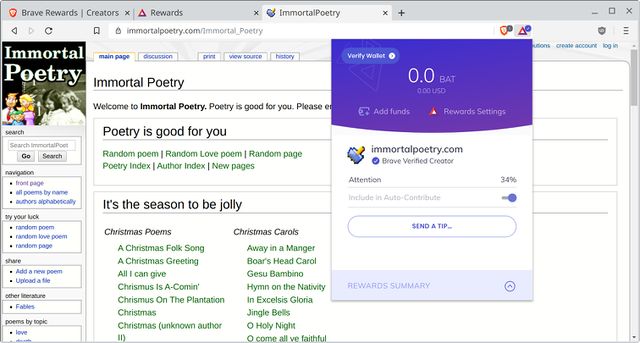 The Brave browser's tipping feature.
BAT is closely tied to the Brave Web Browser's Brave Rewards feature. Users of that browser can earn some tiny amounts of it by viewing advertisements. Earned BAT can either be kept or sold or given as a tip to website owners.
Exchanges
BAT can be traded against other currencies at:
HitBTC
Binance
Bittrex
Kraken
Coinbase
Perhaps some others. It is not a currency you can expect to see listed on any random digital currency exchange; there are far fewer digital currency exchanges listing it than there are exchanges not listing it.