6250+ Free Software Users Have Signed A Letter In Support Of Honorary Doctor Richard Stallman And The FSF Stands By Their Re-Election Of RMS To Their Board
From LinuxReviews
Jump to navigation
Jump to search

The grass-roots support for honorary doctor Richard Stallman, who started the free software movement and popularized the term "free software", has been overwhelming since he announced that he will return to the Free Software Foundations board in a LibrePlanet 2021 live-stream on March 22nd. More than 6200 free software users have, thus far, signed a letter in support of Richard Stallman. Free Software Foundation released a statement affirming their re-election of RMS on April 12th.
written by 林慧 (Wai Lin) 2021-04-13 - last edited 2021-04-13. © CC BY

Richard Stallman, the symbol of freedom, fighting the footclan GNOME foundation and the letters "OSI". The video is also available at Odysee.
6250+ free software users from all around the world have signed on to a letter in support of Richard Stallman since he announced his return to the Free Software Foundations board in a live-stream at the virtual LibrePlanet 2021 conference on March 23rd, 2021. We wrote articles about the support letter when it reached 2000 on March 26th and 3600 signers on March 28th.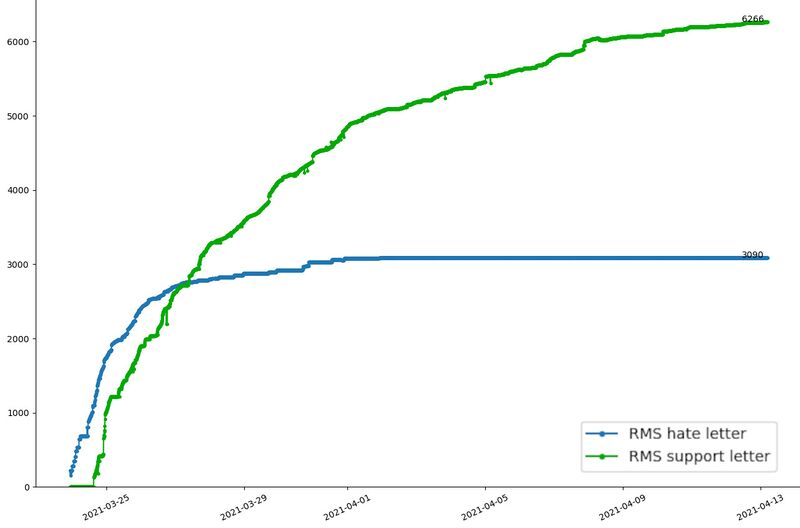 Richard Stallman support letter signers vs the anti-support letter as of April 13th, 2021.
Richard Stallman is not a universally loved figure. He has spent his life educating people about the importance of free software, advocating for a free digital society, warned against the danger of software patents and criticized proprietary software corporations at every turn. Big technology corporations strongly oppose his free software activism. They have been looking for ways to remove Stallman from the public spotlight for decades.
"Strategic Initiatives Manager" Molly de Blanc from the GNOME Foundation, a semi-profitable big tech funded lobbying organization with $876,871 in revenue in fiscal year 2019, published a vicious opinion piece titled "RMS Open Letter" on March 23rd. More than 3000 people signed on to that letter the following week thanks to heavy promotion of it in large corporate-controlled "News outlets".
"These organizations do not represent the free and open source community. Look at the signatures and you will see the representatives of Big Tech, the same corporate monopolies that have always been the archenemies of freedom."
Some of those who signed the letter opposing Stallman seem to have a mind-set that is similar to religious cult members.
Molly de Blanc's opinion piece if full of spurious allegations, and fills the voids with drivel such as:
"RMS has spent years on a campaign against using people's correct pronouns. This is poorly disguised transphobia."
Molly de Blanc in an opinion piece titled "RMS Open Letter"
published on March 23rd, 2021
To entertain the delusion, the source of this ludicrous allegation is a webpage Stallman maintains titled: "Better Genderless Pronouns in English". This turn of events didn't come to fruition from reading it and then concluding it is "disguised transphobia". Also interesting to note is that Libreboot Maintainer Leah Rowe who has come to terms with Stallman after a prior falling out, published a long opinion titled "Defend Richard Stallman!" on March 31st.
"Richard Stallman is not transphobic at all."
Leah Rowe, the founder of Libreboot and a trans-person and who has met Stallman on many occasions
on March 28th, 2021
The rests of the allegations in Molly de Blanc's opinion are is just as ludicrous. A long Reddit post titled Dissecting Hate Speech - The Richard M. Stallman Open Letter picks it apart piece by piece. There is a similar article debunking it point by point titled Debunking False Accusations Against Richard Stallman at stallmansupport.org. There is, additionally, an older article titled Low grade "journalists" and internet mob attack RMS with lies. In-depth review that debunks some of the accusations in the letter. It is from 2019 when Stallman was pressured into resigning from his then position as FSF President - that's two years prior to Molly de Blanc's opinion piece.
The "RMS Open Letter" does not only demand that Richard Stallman is kept out of all leadership positions in the FOSS world, it also demand that the entire Free Software Foundation board resigns. It is not just about smearing Richard Stallman with vicious false allegations, it is also a direct attack on the Free Software Foundation and free software users in general.
"We urge those in a position to do so to stop supporting the Free Software Foundation. Refuse to contribute to projects related to the FSF and RMS."
"An open letter to remove Richard M. Stallman from all leadership positions"
Richard Stallman himself had this to say about the vicious letter in a message on the GNUstep mailing list on March 27th, 2021:
"Most of the accusations in that letter are false. A few are true, but they are not very important.
Meanwhile, that message demonstrates the true nature of the cancellationist movement: an attempt to bully people into obeying its party line.
In a world in which Nazis, violent nationalists and violent bigots grow in power, it is bizarre that people focus on crushing someone like me.
In fact, I do not support abuse of women or children, but that issue has nothing to do with the FSF, GNU or GNUstep.
The FSF does, however, support basic human rights including freedom of thought and speech. We who hold views on political issues should not try to censor views that we disagree with."
It is true that Richard Stallman has written some unfortunate things and shared some problematic viewpoints during his long lifetime. He has, for example, implied that having sex with minors is alright as long as they consent more than once. He changed his mind about that in 2019.
"Many years ago I posted that I could not see anything wrong about sex between an adult and a child, if the child accepted it.
Through personal conversations in recent years, I've learned to understand how sex with a child can harm per psychologically. This changed my mind about the matter: I think adults should not do that. I am grateful for the conversations that enabled me to understand why."
It is interesting that the EFF, The Tor Project, IBM through their subsidiaries Red Hat and Fedora, SUSE, Mozilla and the GNOME Foundation have all released statements that are critical of Stallman's revised view on this issue.
Overwhelming Support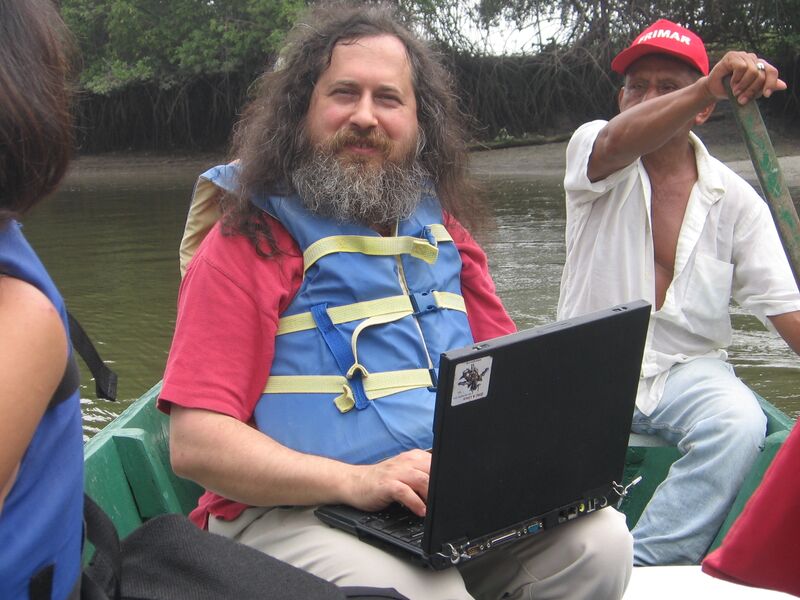 Richard Stallman working on his laptop.
Photo Credit: Richard Stallman. Licensed under CC Noderivatives.
"Richard M. Stallman, frequently known as RMS, has been a driving force in the free software movement for decades, with contributions including the GNU operating system and Emacs.
Recently, there have been vile online attacks looking to remove him from the FSF board of directors for expressing his personal opinions. We have watched this happen before in an organized fashion with other prominent free software activists and programmers. We will not stand idly this time, when an icon of this community is attacked.
FSF is an autonomous body that is capable of treating its members in a fair, unbiased fashion, and should not give in to external social pressures. We urge the FSF to consider the arguments against RMS objectively and to truly understand the meaning of his words and actions."
Free software users around the world responded to the vicious and hateful letter published by Molly de Blanc from the GNOME Foundation with An open letter in support of Richard M. Stallman. More than 6250 people from around the world have shown their support for Richard Stallman by signing on to the supportive letter. There are a lot more actual free software users than there are shills taking corporate hand-outs, bullies, newchurch activists and 白左 activists.
"History shows that inquisitive minds are not always welcome, specially when they challenge religious, ideological, or political views. If these minds choose not to self-censor, they need to be ready to suffer severe punishment."
Many free software users have written articles in support of Stallman, and it is also easy to see that he has a lot of support among free software developers if you look at various mailing lists. Ali Reza Hayati has written two good articles in support: Fight against idiocy; support RMS and More on RMS' return. The vlogger Distrotube was so disgusted by the anti-RMS letter that he made a video titled "GNOME Board Members Must Resign In Disgrace". In it, he points out that the vicious GNOME Foundation led witch-hunt against Stallman appears to violate every single part of GNOME's "Code Of Conduct".
Eric S. Raymond, programmer, author and guru, was one of the first to sign the letter in support of Richard Stallman. You can browse the Wumpus source code to learn something about his coding style and passion for computer history.
GNUstep developer Dale Amon had this to say about the vicious hate letter against Stallman:
"I wholeheartedly support any organization that distances itself from political and social positions pushed by minority activists.
I applaud that the FSF has the guts to stand up to blackmail. If some people wish to walk away because of that stand, that is their right."
Dale Amon later added this a few hours later:
"It would make me feel comfortable and at home if everyone would just sign the Libertarian Pledge:
"I hereby certify that I do not believe in or advocate the initiation of force as a means of achieving political or social goals."
That is unlikely however, so I will just let others be themselves and I will tolerate them and deal with them fairly in those areas in which we agree.
GNUStep is about code. It ain't about social engineering or who you like or hate.
To those pushing their beliefs on everyone around them... grow up."
Other GNUstep developers seem to agree.
"This does not mean I back all Dr. Stallman's statement, but as Dale put it, it is "blackmailing" the FSF. A kind of dictatorship of the "political correctness" which only hides under the concept of freedom.
GNUstep and GNU stand for me for freedom in technology and access to it. Of course it can become political, because politics may "clash" with these coals, but let's not turn it around and take it as a political or social institution which presses you whom to hate or love."
A kind of dictatorship of the "political correctness" is a good way to describe what the 白左 activists are trying to accomplish.
The Free Software Foundation Is Not Backing Down
The Free Software Foundation released a statement titled Statement of FSF board on election of Richard Stallman on April 12th. In it, they write that:
" The voting members of the Free Software Foundation, which include the board of directors, voted to appoint Richard Stallman to a board seat after several months of thorough discussion and thoughtful deliberation.
We decided to bring RMS back because we missed his wisdom. His historical, legal and technical acumen on free software is unrivalled. He has a deep sensitivity to the ways that technologies can contribute to both the enhancement and the diminution of basic human rights. His global network of connections is invaluable. He remains the most articulate philosopher and an unquestionably dedicated advocate of freedom in computing.
RMS acknowledges that he has made mistakes. He has sincere regrets, especially at how anger toward him personally has negatively impacted the reputation and mission of FSF. While his personal style remains troubling for some, a majority of the board feel his behavior has moderated and believe that his thinking strengthens the work of the FSF in pursuit of its mission."
The FSF went on the apologize for how they handled PR around Stallman's re-election.
"We take full responsibility for how badly we handled the news of his election to a board seat. We had planned a flow of information that was not executed in a timely manner or delivered in the proper sequence.
FSF staff should have been informed and consulted first. The announcement by RMS at LibrePlanet was a complete surprise to staff, all those who worked so hard to organize a great event, to LibrePlanet speakers and to the exhibitors. We had hoped for a more inclusive and thoughtful process and we apologize that this did not occur."
The FSF added that they see Richard Stallman's insights and wisdom as being "critical" to their mission.
"In his position on the board, RMS has the same responsibilities as other members. He is an unpaid volunteer and subject to the organization's policies, including prohibitions against conflicts of interest and sexual harassment and those outlining whistleblower processes and fiduciary duties. The responsibilities of the board are described at https://www.fsf.org/about/the-role-of-the-fsfs-board-of-directors.
We believe his views will be critical to the FSF as we advance the mission and confront the challenges that software freedom faces."
We believe the Free Software Foundation made the right decision when they welcomed Richard Stallman back on their board, and we are glad they have the courage to stand up to the corporate shills, bullies and 白左 activists who would prefer to keep him far away from the public's consciousness.